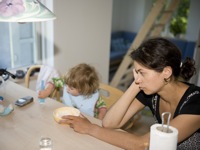 Getty Images
By Amanda MacMillan
THURSDAY, June 14, 2012 (Health.com) — For many couples, the division of household chores is a hot-button issue that stirs up questions about the essential fairness, or unfairness, of their relationship.
Chores can stir up emotions, too. Unpaid domestic work can be physically demanding, monotonous, and isolating, and when one partner—usually the woman—is responsible for the lion's share of the work, research has shown, that partner's mental health can suffer.
This fact was largely borne out in a new study of more than 700 Swedish men and women, published this week in the journal PLoS ONE. Predictably, the researchers found that 42-year-old women bear a greater burden of housework than their male counterparts, and also that they're more likely to experience restlessness, nervousness, anxiety, and other symptoms of psychological distress.
But there was a catch: The link between stress and unequal household chores appeared to depend on other factors in the relationship, such as views on gender equality and the partners' relative socioeconomic position in society—how lucrative and prestigious their jobs are, for instance.
Study participants who did more than half of the domestic work in their household experienced psychological distress only if they also described their relationship as "not gender-equal." Those who viewed their relationship as gender equal—a broad term that could encompass equal rights in both public and private settings—did not seem bothered by having to do more housework than their partners.
Being confident that your partner views you as an equal may act as a buffer to the stress caused by extra chores, the authors suggest. If one partner contributes to the family in another way, such as by bringing in more money, than a couple may agree that an uneven distribution of housework is fair and appropriate.
If it gets out of whack, however, this balance of home-versus-work responsibilities may be problematic, even for the partner with the lighter load at home. Levels of psychological distress were higher among the participants, mostly men, who did less than half of the housework and also occupied a lower socioeconomic position than their partner—perhaps because this situation challenges commonly held beliefs about gender roles, the authors say.
Rosalind Chait Barnett, Ph.D., a senior scientist at the Brandeis University Women's Studies Research Center, in Waltham, Mass., says the study has some important weaknesses that need to be considered. The researchers, she points out, interviewed only one partner from each relationship, rather than couples, and didn't itemize the various categories of domestic work.
"One person may say they do all of the chores, but you don't have the other partner there to provide their own estimate," she says. "I may consider paying bills a household task, but you might not."
Next page: The type of chore may be more improtant