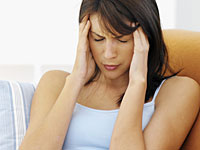 Getty Images
By Matt McMillen
WEDNESDAY, February 22, 2012 (Health.com) — Middle-aged women are roughly 40% more likely to become depressed if they experience migraine headaches, new research suggests.
What's more, their risk of depression appears to stay elevated even if the pain stops. Women whose migraines had not troubled them within the past year were just as likely to become depressed as women who were still enduring the sometimes crippling headaches, the study found.
"For women at least, migraine is a risk factor for depression," says lead author Tobias Kurth, M.D., an epidemiologist at Brigham and Women's Hospital, in Boston. "But there's no good biological reason why the link would not apply to men."
Kurth and his colleagues drew their data from the Women's Health Study, an ongoing survey of female health professionals that began in 1993. They examined the medical records of more than 36,000 women who had no history of depression at the start of the study. Roughly 18% of the women were experiencing some form of migraine or had suffered from the headaches in the past.
Over the next 14 years, 11% of the study participants received a depression diagnosis. Compared to women with no history of migraine, those who had ever had one were 36% more likely to become depressed. Women who used to get the headaches but were migraine-free in the year leading up to the study were 41% more likely to be diagnosed.
After taking into account the women's age, smoking and drinking habits, and other extenuating factors, the researchers found that the type of migraine did not influence depression risk. Women whose headaches were preceded by flashing lights and other sensory disturbances—a condition called migraine with aura, which occurs in 25% of migraine cases—had the same risk of depression as women with the more common form of migraine.
Kurth is scheduled to present his findings at the annual meeting of the American Academy of Neurology in April. Neurologists and primary care physicians both should be aware of the relationship between depression and migraine, he says.
"If you know a patient may be more susceptible to symptoms of depression, you might ask questions," Kurth says. "You might follow them not just for their headaches, but be thinking about the link to depression so you can address symptoms early on."
Next page: Are brain chemicals to blame?