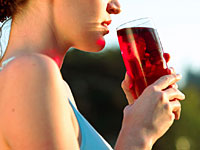 Getty Images
By Amanda Gardner
MONDAY, July 25, 2011 (Health.com) —Women have long relied on cranberry juice or supplements to prevent painful urinary tract infections (UTIs). But a new study from Europe suggests this widely used natural remedy is considerably less effective than low-dose antibiotics, another common preventive measure for recurrent UTIs.
Women with a history of recurring UTIs who took cranberry supplements for one year had an average of four infections during that time, compared to 1.8 infections in a similar group of women who took a daily low-dose antibiotic, the study found.
Using antibiotics rather than cranberry products isn't a clear-cut decision for women, however. Doctors and patients need to balance the comfort of the patient against the growing problem of drug-resistant bacteria, the authors say.
"In terms of ability to prevent recurrent infections, the antibiotic was about twice as effective as cranberry, but it results in more antibiotic resistance," says Lianne Marks, MD, an internal medicine physician at Scott & White Healthcare, in Round Rock, Texas, who was not involved in the study.
Antibiotic resistance is a major public health concern, one that appears to be getting worse. If microorganisms such as Escherichia coli (E. coli)—the most common cause of UTIs—develop a resistance to antibiotics, it can make infections more dangerous and difficult to treat for everyone.
"Most patients do not like to take antibiotics for a long period," says the senior author of the study, Suzanne E. Geerlings, MD, an infectious disease specialist with the Academic Medical Center, in Amsterdam. "I think that cranberries are still a good alternative."
UTIs are ubiquitous. About half of women have had at least one UTI in their lifetime, and up to one-third experience recurrent infections. Women who have more than two infections a year often are prescribed low-dose antibiotics to prevent more occurrences.
In the study, 221 premenopausal women with recurrent UTIs were randomized to receive 480 milligrams a day of the standard antibiotic treatment for the condition—a combination of the drugs trimethoprim and sulfamethoxazole (known as TMP-SMX)—or 500 milligrams twice a day of cranberry capsules.
More than three-quarters (78%) of those taking cranberry capsules had at least one UTI during the study, versus 71% in the drug group. UTI recurrence also tended to happen sooner in the cranberry group. The average time to recurrence in the antibiotic group was about eight months, compared to four months in the cranberry group.
Next page: Cranberry doses may have been too low