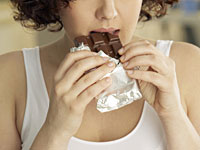 Getty Images
By Anne Harding
MONDAY, July 25, 2011 (Health.com) — Anyone who's sought solace in pizza or a pint of ice cream knows that food can be comforting. But experts still don't know exactly why we gravitate toward fatty or sugary foods when we're feeling down, or how those foods affect our emotions.
Taste and the pleasant memories associated with junk foods surely play a role, but that may be only part of the story. According to a small new study, hormones in our stomachs appear to communicate directly with our brains, independent of any feelings we have about a particular food.
Most research on food and emotion has looked at the overall experience of eating—the tastes, smells, and textures, in addition to nutrients. In this study, however, the researchers took that subjective experience off the table by "feeding" the volunteers through an unmarked stomach tube.
Even in this artificial environment, saturated fat appeared to fend off negative emotions. The study volunteers were more upbeat after listening to sad music and seeing sad faces if their bellies were full of saturated fat versus a simple saline solution, which suggests that emotional eating operates on a biological as well as psychological level, researchers say.
The study is among the first to show that the effect of food on mood is "really independent of pleasant stimuli," says Giovanni Cizza, MD, an obesity and neuroendocrinology researcher at the National Institute of Diabetes and Digestive and Kidney Diseases (NIDDK), in Bethesda, Md., who was not involved in the study. "It is even more rooted in our biology."
The biological mechanism at work is still unclear, but the findings suggest that the stomach may influence the brain by releasing hormones, says Lukas Van Oudenhove, MD, one of the study authors and a postdoctoral fellow at the University of Leuven, in Belgium.
The deep-seated connection between our stomachs and our brains helped keep humans alive when food was scarce (as it was during most of human history), but it may have outlived its usefulness and may be contributing to modern health problems such as obesity, Dr. Van Oudenhove adds.
"Evolution has made every aspect of feeding as rewarding as possible," he says. "These days it may not be a good thing anymore. When food is available anywhere, then it may be a bad thing, leading to obesity or eating disorders in some people."
Next page: Emotional eating can be hard to resist