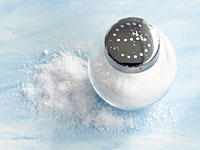 Getty Images
By Anne Harding
MONDAY, July 11, 2011 (Health.com) — People who eat more sodium and less potassium may die sooner of heart or other problems than people who consume the opposite, a large, 15-year-study has found.
The study of more than 12,000 Americans provides more ammunition to health advocates who say that slashing salt intake will save lives. But not everyone is convinced, as some research is contradictory.
In the new study, men consumed an average of 4,323 milligrams of sodium a day, while women took in 2,918 milligrams. The American Heart Association recommends people limit their sodium intake to 1,500 milligrams a day or less.
The group with the highest sodium-to-potassium ratio had a mortality risk about 50 percent higher during the study than the group with the lowest, according to the report by Elena V. Kuklina, MD, and colleagues at the Centers for Disease Control and Prevention (CDC), Emory University, and the Harvard School of Public Health. The research was published Monday in the Archives of Internal Medicine.
A diet rich in fruits and vegetables is naturally low in sodium and high in potassium. Good potassium sources include bananas, baked potatoes, and raisins.
In contrast, a diet of processed foods tends to be the opposite—it contains more sodium and less potassium, says Dr. Kuklina, a nutritional epidemiologist at the CDC.
"We probably should take into account the whole diet and take a more comprehensive look," she says. "Looking at a single micronutrient, we might just miss the whole picture."
Because most of the sodium people in the developed world consume comes from processed food, there has been a movement to get the food industry to reduce the amount of salt it adds to products.
In 2010, the Institute of Medicine recommended that the Food and Drug Administration regulate sodium in food. And the National Salt Reduction Initiative is a partnership of organizations—including major food companies—that aims to cut sodium in processed foods by 25 percent by 2014.
"We now have 28 companies who have committed to reducing the salt levels in at least one of their categories of products," says Thomas A. Farley, MD, of the New York City Department of Health and Mental Hygiene and coauthor of an editorial accompanying Dr. Kuklina's study.
It's the easiest way to reduce sodium intake, says Graham MacGregor, chairman of World Action on Salt and Health (WASH) and a professor of cardiovascular medicine at the Wolfson Institute of Preventive Medicine, in London.
The UK started doing just that in 2006, requiring companies to cut salt content by 25 percent to 30 percent. By 2008, according to MacGregor, sodium intake had fallen by 10 percent.
"It's a very large study…and it clearly shows what we'd expect it to show, that eating too much sodium is harmful and eating too little potassium is harmful," he says. WASH is a global group established in 2005 with the aim of improving people's health by reducing salt intake.
But the case isn't quite closed, some say.
Next page: Some of the research is contradictory