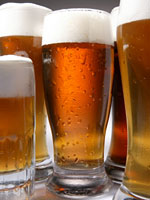 Istockphoto
By Lynne Peeples
TUESDAY, October 19 (Health.com) — Even teenagers know that downing 12 beers in a single night isn't good for their bodies and can be dangerous. But a new study suggests that routine binge drinking like this may cause mental problems—including a reduced ability to think—that can last long after the hangovers have worn off.
In the study, researchers interviewed 48 teens between the ages of 12 and 18 about their alcohol use and then gave them a battery of attention and cognition tests at least two days after they'd had their last drink. The more drinks the teens reported consuming in their drinking sessions, the poorer they performed on the tests. (Some of the teens had known substance abuse problems.)
Frequent marijuana use also appeared to damage memory, according to the study, which was published in the journal Alcoholism: Clinical and Experimental Research.
It's too early to say whether the mental deficits seen in the study are permanent or if they might be reversible with long-term abstinence from alcohol and drugs. Regardless, the findings suggest that the lingering effects of binge drinking could wreak havoc during a pivotal time in a young person's life.
"The most important thing in kids' lives is school," says the lead author of the study, Robert J. Thoma, PhD, an associate professor of psychiatry at the University of New Mexico, in Albuquerque. "If you have a problem with sustained attention, then how are you going to do in math class?"
"These kids are making things more difficult for themselves," he adds.
However, the study couldn't show that binge drinking directly caused cognitive problems. It could be that preexisting cognitive problems—such as poor decision-making—lead to binge drinking, rather than vice versa.
Thoma and his colleagues looked at three groups of teens: 19 who had been diagnosed with substance abuse, 14 who had a family history (but no personal history) of problem drinking, and 15 with no history of alcohol problems.
Kids with substance abuse problems reported consuming an average of 13 alcoholic beverages on days when they drank. The other two groups of teens averaged one drink or less for each day they chose to consume.
Next page: Cognitive problems increased with alcohol use