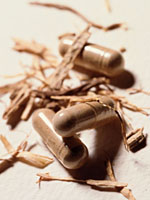 Getty Images
By Amanda Gardner
WEDNESDAY, October 6 (Health.com) — Herbal supplements containing kava or passionflower appear to be a safe and effective treatment for the symptoms of anxiety, a new review of existing research suggests.
Kava and passionflower have long been used in traditional medicine for their calming properties, and the herbs are now sold in stores as capsules or liquid extracts. The evidence is "strong" that such products may actually help people with anxiety, according to the review.
By contrast, the authors found insufficient evidence for the use of St. John's wort, a popular herbal remedy used primarily to treat mild depression.
Experts not involved in the study say the findings should be taken with a grain of salt, however.
The review's conclusions are "premature," says Mary Chavez, a professor of pharmacy practice at the Texas A&M Health Science Center, in Kingsville. "The studies [the authors] look at are very small and short, and they don't go into the quality of the studies. They're preliminary studies, and I think more supportive studies are needed before we can recommend such products."
People who are experiencing anxiety should not consider this review an endorsement to start popping kava or passionflower capsules, Chavez says. Nor should anxiety patients currently taking prescription drugs switch to herbal remedies without consulting their doctor.
The review, which included 24 studies comprising about 2,600 people, was published in Nutrition Journal and was conducted by researchers at the Global Neuroscience Initiative Foundation, a small nonprofit organization in Los Angeles dedicated to neurological and mental-health research and awareness.
Twenty-one of the studies included in the review were randomized controlled trials, which are considered the gold standard for scientific research. Most of the study participants had been diagnosed with anxiety disorder or depression, but some were experiencing anxiety stemming from a health condition, such as surgery or perimenopause.
An estimated 40 million adults in the U.S. have an anxiety disorder, according to the National Institute of Mental Health. Anxiety disorders include obsessive-compulsive disorder (OCD), social phobia, and generalized anxiety disorder, and are usually treated with prescription drugs, talk therapy, or both.
Next page: Most doctors cautious about supplements