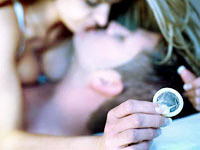 Getty Images
By Denise Mann
MONDAY, October 4 (Health.com) — A new survey of American sexual habits suggests that while the nation's sex life is more varied than in the past, fewer people are having unprotected sex—at least in some age groups.
The survey, which was sponsored by the maker of Trojan condoms and included a representative sample of 5,865 people ranging in age from 14 to 94, is the first comprehensive study of its kind in nearly 20 years, the researchers say.
Vaginal intercourse was the most common sex act among adult couples, but other sexual behaviors (such as masturbation with a partner) were widespread, the survey found. And the proportion of people who reported having oral and anal sex was higher than in a similar survey conducted in 1992.
"We found enormous diversity in the sexual repertoire of U.S. adults," said one of the researchers, Debby Herbenick, PhD, associate director of the Center for Sexual Health Promotion at Indiana University, in Bloomington, at a press conference announcing the survey results. "Adult men and women rarely engage in just one sex act when they have sex. In fact, we found a total of 41 combinations of sex acts that adults reported engaging in when they last had sex."
The public health campaign to cut down on unprotected sex seems to be working, especially among adolescents.
Although condoms were used just 1 out of every 4 times people had vaginal sex—the rate jumped to 1 in 3 among people not in monogamous relationships—condom use among teens appears to be more common than not, according to the survey. Teenage men and women said they used a condom 79% and 58% of the time, respectively, during the last 10 times they had vaginal sex, the survey found.
Condom use was markedly lower in other age groups. Fifty-three percent of men and 42% of women ages 25 to 29 reported using a condom the last time they had sex with a "casual partner," as did just 25% of adults in their 50s. Among 14- to 17-year-olds, the rate was around 85%. (Overall, condom use was twice as likely with casual sex than with sex in a relationship.)
"I am disappointed with the low level of condom use by people over 50," says Pepper Schwartz, PhD, a sociologist at the University of Washington, in Seattle, and a member of a scientific council that advises the Trojan condom company. "We now have the technology to keep people sexual longer, and we need the public health strategies to help them take care of themselves and be responsible to their partners."
The findings will help physicians put the sexual behavior and health of their patients into context, and may help public health officials tailor strategies to fight the spread of sexually transmitted diseases, the researchers say.
The survey, which was conducted in the spring of 2009, is known as the National Survey of Sexual Health and Behavior (NSSHB). The results are presented in a special supplement issue of the Journal of Sexual Medicine. Among the other notable findings:
• The orgasm gender gap. Men are more likely to experience orgasm with vaginal intercourse, while women are more likely to experience orgasm during other sexual acts, such as oral sex. And women aren't having as many orgasms as men think they are. Although 85% of men said their female partner had an orgasm during their last sexual act, just 64% of women said they did.
Next page: More findings: Sexual pain