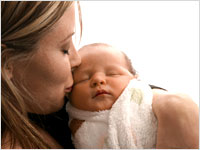 Istockphoto
By Amanda Gardner
MONDAY, July 26 (Health.com) — Babies whose mothers are attentive and caring tend to grow into happy, well-adjusted children. But the psychological benefits of having a doting mother may extend well beyond childhood, a new study suggests.
According to the study, which followed nearly 500 infants into their 30s, babies who receive above-average levels of affection and attention from their mothers are less likely than other babies to grow up to be emotionally distressed, anxious, or hostile adults.
What's more, the link between the emotional health of adults and their mothers' affection was evident even though the mothers and babies were observed for a single day, when the babies were just eight months old.
"Even a simple assessment of the quality of the mother-infant interaction at such an early age captures something very important in terms of the future psychological health of that infant," says Joanna Maselko, PhD, the lead author of the study and an assistant professor of psychiatry and behavioral sciences at Duke University Medical School, in Durham, N.C.
The findings, which appear in the Journal of Epidemiology and Community Health, make a strong case for policies that would help foster positive interactions between infants and parents, such as paid parental leave, Maselko says.
The study also suggests that health insurance should cover services—such as infant-massage classes—that have been shown to strengthen the child-caregiver relationship, says Robin Gurwitch, PhD, a professor of developmental and behavioral pediatrics at Cincinnati Children's Hospital.
"Early experience can be a mediating factor on what happens to us as adults, and we need to look at things that we can do to improve parent-child bonding that can then perhaps serve as a protective factor later," Gurwitch says.
The study included 482 babies born in Providence in the early 1960s. Along with their mothers, the babies were part of a larger, nationwide study on pregnancy and infancy.
When the babies were eight months old, psychologists observed the mothers' interactions with them as the babies took a series of development tests. The psychologists rated the mother's affection and attention level on a five-point scale ranging from "negative" to "extravagant." The vast majority of the interactions (85%) were considered "warm," or normal.
Next page: Thirty years later…