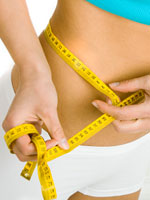 Istockphoto
By Anne Harding
WEDNESDAY, July 14 (Health.com) — Here's the good news: Three new weight-loss drugs are on the horizon that could help overweight and obese people shed pounds. A Food and Drug Administration (FDA) panel is meeting on Thursday to discuss one of the drugs, Qnexa, and the panel is scheduled to consider two more drugs, lorcaserin and Contrave, in the coming months.
The potential problem? Prescription weight-loss remedies have a spotty history. Some have proved to have a relatively modest effect, while others have been downright dangerous.
It's unclear whether the new drugs are more effective than existing weight-loss drugs, but all three use novel mechanisms that are designed to avoid the serious side effects that have undone weight-loss pills in the past. Still, they carry potential risks—especially since most people are likely to take them long-term.
"Safety is paramount," says Donna Ryan, MD, an associate executive director for clinical research at the Pennington Biomedical Research Center, in Baton Rouge, La. "These medications must be taken for years." (Dr. Ryan served as a consultant to the manufacturers of Qnexa and lorcaserin prior to January 2008.)
The new weight-loss drugs aren't intended for chubby people who want to look better in a bathing suit. They're only meant to be taken by obese people (those with a body-mass index of at least 30) and overweight people with related health problems, such as diabetes and high blood pressure.
Qnexa, which is taken once a day, uses a one-two punch to spur weight loss. It combines low doses of topiramate, a generic drug (also sold as Topamax) used to treat seizures and migraines, and phentermine, a mild stimulant approved by the FDA for short-term weight loss. Phentermine suppresses appetite soon after the pill is taken, and topiramate—which kicks in later in the day—creates a sense of feeling full.
In clinical trials, roughly 60% to 70% of the people who took Qnexa lost 5% or more of their body weight (a standard measure used in weight-loss drug studies), compared with about 15% to 20% of those who took a placebo. People who took high doses of Qnexa lost more than 10% of their body weight, on average.
Next page: But is it safe?