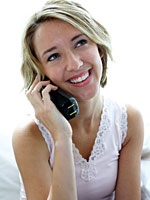 Istockphoto
By Anne Harding
TUESDAY, MAY 11 (Health.com) — It's a situation every mother has been through: Your child is stressed out or upset, but she's at school or summer camp—too far away for you to give her a hug.
That doesn't mean she can't be comforted, however. According to a new study, talking on the phone with Mom is nearly as good as getting a hug for helping stressed-out kids calm down.
At least for young girls, talking on the phone with their mothers reduces a key stress hormone and also releases oxytocin, a feel-good brain chemical that is believed to play a key role in forming bonds, the study found.
The findings bring to mind the 1980s ad campaign for AT&T that urged people to "reach out and touch someone," says one of the study's authors, Seth D. Pollak, PhD, a psychology professor at the University of Wisconsin-Madison.
"The idea was that picking up the phone and calling someone would be like giving them a hug," Pollak says. Now, it looks like that may actually be true—at least if your mother is on the other end of the line. (Note: This may depend on the mother.)
In the study, Pollak and his colleagues asked 61 girls, ages 7 to 12, to give a speech or do math problems in front of an audience, a surefire way to make a kid stressed.
Afterward, roughly one-third of the girls were reunited with their mothers, who hugged and soothed them for 15 minutes. Another third spoke to their mothers on the phone for 15 minutes. The last group watched a "neutral" movie (i.e., not Bambi) for 75 minutes. After seeing or speaking with their mothers, the girls in the first two groups watched the same movie for an hour.
Using saliva samples, Pollak and his colleagues tested the girls' levels of the stress hormone cortisol both before and after the stress test. They also measured the levels of oxytocin in the girls' urine.
The cortisol levels of the girls who were soothed by their mothers—either in person or on the phone—started dropping immediately after the stress test, and returned to normal after about a half-hour. By contrast, cortisol levels in the other group continued to rise after the test and remained higher than normal throughout the experiment. (Normal, in this case, refers to the levels before the stress test began.)
Similarly, oxytocin levels rose sharply in the girls who interacted with their moms, and remained elevated for more than an hour after the test. The girls who didn't have contact with their mothers showed no increase in oxytocin levels at all.
The study was published in the journal Proceedings of the Royal Society B.
Next page: A "very powerful" finding