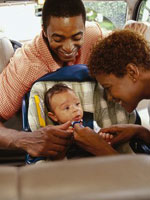 (Getty Images)
By Denise Mann
MONDAY, Aug. 24, 2009 (Health.com) — Infant car safety seats can—and do—save newborns' lives in traffic accidents. In fact, you can't leave the hospital without one.
However, these seats, which require infants to be placed in an upright position, can also cause breathing problems when babies sleep in them, according to a study in the journal Pediatrics. The seats can compress the chest wall and reduce airway size, which could result in lower oxygen levels in the blood, the researchers found.
"Car seats and car beds can result in mild respiratory compromise in about 20% of newborns," explains lead researcher T. Bernard Kinane, MD, the chief of pulmonary pediatrics at Massachusetts General Hospital, in Boston. "These safety devices should only be used for protection during travel and not as a replacement for a crib." A car bed is a special type of car seat used for premature infants or newborns that are at risk of breathing problems.
Many parents think of car seats as a cozy spot for kids to sleep, even outside of the car, because they're so easy to use, says Selena Silva, the program coordinator at the Child Passenger Safety Program at Children's Hospital, in Denver.
"In the early days of parenthood, new parents are desperate to find any comfortable place for an infant to sleep," she says. "But car seats are really meant to be used in cars."
Next page: Check the car seat's angle