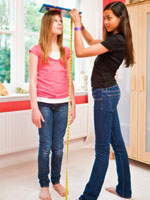 (Getty Images)
By Karen Pallarito
MONDAY, Aug. 17, 2009 (Health.com) — Height-challenged parents around the world can now breathe a sigh of relief. Contrary to popular belief, short children do just as well as their taller peers when it comes to social skills, popularity, and behavior.
Although short kids report a marginally higher level of teasing, they stand up to their taller peers across a range of social, emotional, and behavioral measures—and that's true regardless of race, gender, or other factors.
"There's just a lot of stereotypes about short stature and its impact on the well-being of children," says study author Joyce M. Lee, MD, MPH, an assistant professor in the division of pediatric endocrinology at the University of Michigan and a pediatric endocrinologist at C.S. Mott Children's Hospital, in Ann Arbor. "What I would stress is, parents should really be reassured by this data, but even if they have a child of moderate short stature, it's not likely to have any impact on their emotional and behavioral well-being."
The findings, published Monday in the journal Pediatrics, are based on a study of 712 boys and girls. The study included 11-year-olds of moderate short stature, meaning those smaller than 90% of their classmates, or shorter than 4-feet-5 inches.
Surendra K. Varma, MD, the vice-chairman of pediatrics at Texas Tech University Health Sciences Center School of Medicine, in Lubbock, says the study contradicts labels like Napoleon complex or short man syndrome that have been used throughout the ages.
"It's true that short children do well and are not less smart," he says, "but our Western society glorifies tall stature."

Next page: Some parents request growth hormone drug