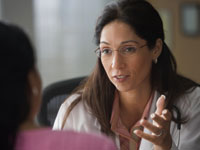 (Getty Images)
By Anne Harding
TUESDAY, June 2, 2009 (Health.com) — Most people have heard about the shot that can protect young girls and women from the human papillomavirus, or HPV, which can lead to cervical cancer. But what about older women?
The picture for older women—meaning mid-20s and up—is a bit murkier. According to a study published this week in The Lancet, an HPV vaccine can indeed protect women ages 24 to 45 from getting the sexually transmitted virus.
But that doesn't necessarily mean that every woman in this age group needs—or should get—such shots, some experts say. The vaccine is currently approved for use in women and girls ages 9 to 24, and insurers don't cover it for older women.
In addition, it's not clear whether the vaccine will actually protect older women from cervical cancer, and it isn't cheap. The vaccine's three injections (sold as Gardasil in the United States) cost about $375, and that doesn't include the office-visit fees that some doctors charge.
It's definitely possible that Gardasil could benefit older women, says Kenneth Noller, MD, of Tufts Medical Center, in Boston, who wasn't involved in the research. "This article doesn't give me enough information to know," Dr. Noller says. "What we really need to know is if these women who were vaccinated developed less significant disease than women who weren't vaccinated, and we won't know this until several years from now."
Nevertheless, Kevin Ault, MD, an ob-gyn at Emory University School of Medicine, in Atlanta, who helped conduct the new study, says he would recommend Gardasil for older patients who run the risk of being exposed to an HPV infection. He uses the example of someone entering the dating scene after years of monogamy. "Real-life examples come to me all the time," Dr. Ault says.
Next page: Vaccine doesn't protect women already infected with HPV