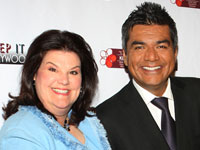 Associated Press
By Kathleen Doheny
THURSDAY, March 12, 2009 (Health.com) — It's barely past 8 a.m. on World Kidney Day, but funnyman and actor George Lopez is in overdrive, bouncing back and forth from television interviewers to radio remotes to Internet and print reporters, trying to spread the word about the importance of screening for kidney disease.
Nearby, his wife Ann, who donated her kidney when Lopez needed a transplant in 2005, is keeping pace with her own interviews, often stopping to hug a friend or wave hello across the room in between sound bites.
Both are quick with the quip, blending humor with education about the importance of kidney health and screening for kidney disease. Says Ann: "Be nice to your spouse. You never know when you'll need spare parts."
On an early-morning radio interview a few moments earlier, George had urged listeners to come down, get screened, and, he added, have a drink, too.
World Kidney Day took place all around the world today, but this Hollywood version sponsored by the National Kidney Foundation of Southern California had its own unique twist. It was actually held at a bar—Guy's North, a trendy watering hole in Studio City just upstairs from a bowling alley called Pinz, where the din of bowling pins can be heard over the clinking of glasses.
Ann and George Lopez are national spokespeople for the National Kidney Foundation. And dozens of celebrities attended the day's event—called KEEP (Kidney Early Evaluation Program) it Hollywood—which included free mini-screenings for kidney disease.
Next page: "High blood pressure cost me my kidney and almost my life."