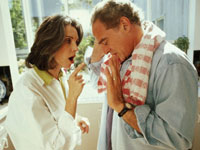 Getty Images
By Theresa Tamkins
THURSDAY, March 5, 2009 (Health.com) — When a marriage is rocky, it can make both partners feel depressed. But only middle-aged women—not men—seem to have health problems associated with marital strife, such as high blood pressure, excess belly fat, and other factors that boost risks for heart attack and diabetes, according to a study being presented Thursday at the American Psychosomatic Society meeting in Chicago.
"I think we've got to get used to the fact that a toxic relationship is toxic to your whole health," says cardiologist Nieca Goldberg, MD, medical director of New York University's Women's Heart Program.
In the study, University of Utah researchers looked at 276 couples to see if depression was the real reason poor marriages have been found to be harmful to health. The couples were middle-aged or older Utah residents who were mostly married for a long time—on average more than 27 years; they ranged in age from 32 to 76.
The researchers found that bad relationships were bad for health—for women at least. Women in troubled relationships were more likely than other women to be depressed. Plus, they were more likely to have metabolic syndrome, a cluster of risk factors including elevated blood pressure, high triglycerides, low levels of HDL (good) cholesterol, abdominal obesity, and elevated blood sugar—all basically steps on the road to heart attack or diabetes.
"For husbands, we didn't see, on its own, that negative marital stuff was related at all to metabolic syndrome. The only thing it was related to was their depressive symptoms," says Nancy Henry, a doctoral candidate in clinical psychology at the University of Utah. "For men, having a problematic marriage is still emotionally, but not physically, problematic healthwise."
Although the researchers didn't specifically ask the subjects about religion, many Utah residents are Mormons, who may be less likely than people in other religious groups to get divorced, says Henry. "Because we have this really traditional value of marriages here in this state, in this area, then I think we have surveyed couples that are staying together no matter what," she says.
Next page: Why getting a divorce won't solve the problem