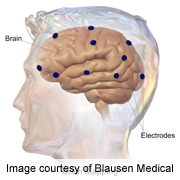 By Margaret Steele
HealthDay Reporter
MONDAY, Feb. 18 (HealthDay News) — An unprecedented, 10-year study of the human brain is expected to be unveiled by the Obama administration as early as next month, The New York Times reported Monday.
President Barack Obama cited the need for brain research in his State of the Union address last week, and the Times reported Monday that scientists, government agencies and private foundations expect to team up in an effort to reveal the mysterious inner workings of the brain's chemistry.
The project is known as the Brain Activity Map project, the news report said, and the ultimate goal is to create a detailed map of the brain, which is composed of billions of neurons, and to better understand mental illnesses and brain disorders such as Alzheimer's, Parkinson's and autism.
The U.S. National Institutes of Health-sponsored research might even lead to breakthroughs in artificial intelligence, the newspaper reported.
Scientists hope that the effort will have the same wide-reaching effect on brain research and knowledge that the Human Genome Project had on genetics. When it was completed in 2003, the 13-year Human Genome Project had mapped all of the genes in human DNA. The project cost $3.8 billion, but had returned $800 billion by 2010, the Times said.
George Church, a molecular biologist at Harvard University involved with both projects, said of the brain mapping project: "We probably won't spend less money, but we will probably get a lot more bang for the buck."
Scientists discussing the brain project said they hope Congress would allot $3 billion or more over the length of the initiative, the newspaper said.
Experts welcomed the news.
"Unbiased approaches such as this and such as the Human Genome Project are most useful in revealing 'unknown unknowns' — information that we would never learn through standard logic and hypothesis-testing because these connections would never cross our minds," said Dr. Sam Gandy, associate director at the Mount Sinai Alzheimer's Disease Research Center in New York City.
More information
The U.S. National Institute of Mental Health has more about brain basics.
---