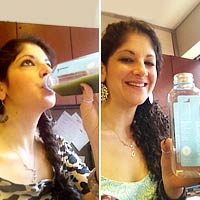 My juicy secret: I'm curious about a juice cleanse. But I'm scared! What if I get hungry? No caffeine?
What am I supposed to do without my morning jolt? Suffer from the 10 a.m. dull headache that will no doubt snake up the back of my neck and seize my forehead and temples like a band of howling wild wolves choreographed to the sound of Middle Eastern drums?
But I have two good friends who juice regularly to either detox from a weekend of bad eating or to lose a few pounds. I decided that I was going to do it for my own reason: Just to see if I could.
I decided to go with a 3-day Blue Print Cleanse. Blue Print is the one I have heard the most about and the cleanse that my friends swear by. You drink six 16-ounce juices each day.
You order one of three levels of juice cleanses online (I chose Renovation) and receive the juices in a box full of ice packs. (Note: I bought this myself and am not affiliated with the company in any way).
The juices are numbered 1 to 6 (totally idiot proof). For three days, it was $195. While this is a bit pricey, I decided it was worth it because I'd probably have to spend the same amount on fruits and veggies to create enough juice to sustain me. Plus, I don't own a juicer and don't intend to buy one.
Day 1
My first juice was preceded by two cups of caffeinated green tea. I'm an admitted caffeine addict and Blue Print says that the tea is allowed. But even if it weren't, I would have still had it–I won't suffer blinding headaches for anything or anyone.
The green juice (Romaine, celery, cucumber, apple, spinach, kale, parsley, and lemon) tastes like that refreshing smell that hits you in the face when you walk into an organic food store or juice bar. You know, the one that smells like grass and ginger and makes you feel healthy just by breathing deeply?
It tastes good enough to drink, but not quite good enough to chug, so I take my time sipping it and make it last. Maybe I can play Jedi mind tricks on myself to feel like I've actually eaten. Nah, who am I kidding? It's juice.
Throughout the day, I looked forward to my juices because each one was new and delicious. I felt some hunger, but the novelty of doing something new was propelling me forward. Cashew milk, my final juice, served as dinner. This thick, creamy drink with vanilla and cinnamon tasted amazing when blended with tons of ice. Essentially, I had a smoothie for dinner!
Day one down–can I do this? Yes.
Next page: Days 2 and 3 of my cleanse