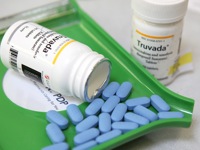 Getty Images
By Amanda Gardner
WEDNESDAY, July 11, 2012 (Health.com) — A drug widely used to treat HIV is also highly effective at preventing infection in HIV-free individuals—as long as those individuals take the drug every day as prescribed, newly released trial data shows.
The drug, an antiretroviral pill known as Truvada, interferes with the replication of the most common HIV virus and can reduce the risk of new infection by 62% or more if taken consistently, according to the results of three studies published today on the website of the New England Journal of Medicine.
In May, based on these and other studies, a Food and Drug Administration (FDA) advisory committee recommended that the agency approve Truvada for men who have sex with men, people whose romantic partner is HIV-positive, and other high-risk groups. If approved, Truvada would be the first drug indicated for the prevention of sexually transmitted HIV.
"This offers a new way to keep an HIV-negative person HIV-free," says Jared Baeten, M.D., an associate professor of global health at the University of Washington School of Public Health, in Seattle, who led one of the studies.
Taken together, the studies underscore the importance of strictly following the daily drug regimen. In Baeten's study, which included 4,747 heterosexual African couples in which one partner was HIV-positive, the HIV-negative partners who took Truvada had a 75% lower risk of becoming infected compared with those taking placebo.
In another study, however, Truvada was found to be no more effective than placebo among women in southeast Africa. Blood tests taken during the study revealed the likely reason: Less than 40% of uninfected women had taken a daily dose within the previous 48 hours. In the Baeten study, by contrast, a tally of leftover pills at the end of each month suggested that more than 90% of the participants had followed the regimen.
"The difference between the studies does seem to be one of adherence," says Baeten, using the medical term for sticking to a treatment. "In our study, one motivator for high adherence is likely that all participants knew their partners had HIV, unlike in other studies, where HIV risk may have been more theoretical to some participants."
The consistency required for Truvada to be effective has important implications for real-world use, especially given the drug's annual price tag, which can run as high as $14,000 per year in the United States, says Michael Kolber, M.D., director of the Comprehensive AIDS Program at the University of Miami Miller School of Medicine.
"This is an expensive drug," says Kolber. "[Adherence] is a big deal, because if doctors order [Truvada] and people don't take it, it isn't useful, yet it's a big cost."
Next page: Side effects could discourage daily use