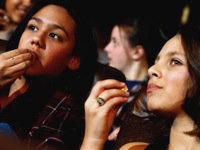 Getty Images
MONDAY, July 9, 2012 (Health.com) — Movies that show actors smoking tobacco should automatically earn an R rating in order to minimize copycat smoking among impressionable tweens and teenagers, the authors of a new study suggest.
PG-13 films account for nearly two-thirds of the smoking scenes adolescents see on the big screen, according to the two-year study, which surveyed roughly 5,000 children ages 10 to 14 about the movies they'd seen and whether they'd ever tried a cigarette.
Smoking in PG-13 films—including background shots and other passing instances—was just as strongly linked with real-world experimentation as the smoking in R-rated films. For every 500 smoking scenes a child saw in PG-13 movies, his or her likelihood of trying cigarettes increased by 49%. The comparable figure for R-rated movies was 33%, a statistically negligible difference.
Assigning an R rating to all movies portraying smoking would lower the proportion of kids who try cigarettes at this age by 18%, the authors estimate. (Children under 17 must be accompanied by an adult to buy a ticket for an R-rated movie.)
"The movie industry [should] treat smoking like it treats profanity and sex and violence," says lead author James D. Sargent, M.D., a cancer-prevention specialist and professor of pediatrics at Dartmouth Medical School, in Lebanon, N.H. "If saying the 'F' word twice gets you an R rating, certainly something as important as smoking should get you an R rating."
The study, which appears in the August issue of the journal Pediatrics, was designed in part to refute the notion that it's difficult to untangle movie smoking from the many other situations, both on-screen and off, that may contribute to adolescent impulses.
Sargent and his colleagues can't prove from this study alone that movies incite kids to smoke. But they did zero in on movies by controlling for a wide range of extenuating factors, including race, household income, school performance, parenting styles, smoking among friends and family members, and even personality traits such as rebelliousness.
"This is a compelling study that adds to the existing research and leads us to one unequivocal conclusion, and that is that smoking in movies should result in an R rating," says Michael C. Fiore, M.D., director of the University of Wisconsin Center for Tobacco Research, in Madison. Fiore was not involved in the study.
The Motion Picture Association of America (MPAA), a trade organization that assigns ratings to movies released in the United States, said in a statement that the movie industry seeks to balance the "serious health problem" of teen smoking against "freedom of expression and speech and storytelling."
Since 2007, the MPAA has included smoking among its key ratings criteria, along with language, sex, violence, and drug use. According to the association, film raters consider smoking in this broader context, and they also consider how frequent, glamorized, or historically relevant it is (as in period pieces, for instance).
"The rating system does not tell filmmakers what to put in their films; it merely gives information about the level of content in each film and describes the elements that reach the level of the rating, so that parents can make choices for their children," said Howard Gantman, the MPAA's vice president of corporate communications.
Of the 3,140 films that received a rating between May 2007 and March 2011, 54% contained at least one instance of smoking, according to MPAA statistics.
Next page: Why G and PG films are different