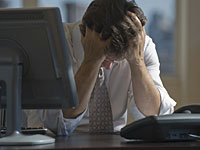 Getty Images
By Matt McMillen
WEDNESDAY, January 25, 2012 (Health.com) — Working long hours appears to substantially increase a person's risk of becoming depressed, regardless of how stressful the actual work is, a new study suggests.
The study, which followed 2,123 British civil servants for six years, found that workers who put in an average of at least 11 hours per day at the office had roughly two and a half times higher odds of developing depression than their colleagues who clocked out after seven or eight hours.
The link between long workdays and depression persisted even after the researchers took into account factors such as job strain, the level of support in the workplace, alcohol use, smoking, and chronic physical diseases.
Although the findings are "consistent with previous studies, the degree of increased risk was surprising," says Bryan Bruno, MD, chair of the psychiatry department at Lenox Hill Hospital, in New York City, who was not involved in the research. "The biggest condition that I work with is depression, and it is often related to work stressors."
Overworked junior and mid-level employees appear to be more prone to depression than people higher up the food chain, the study suggests. The length of the workday didn't have a perceptible impact on the mental health of higher-paid, top-level employees such as cabinet secretaries, directors, team leaders, and policy managers.
That's likely due to the amount of control higher-ups have over their own work, says Alan Gelenberg, M.D., who, as the chair of the psychiatry department at Pennsylvania State University, in University Park, is a higher-up himself.
"We have more control over what we work on; we can choose the fun stuff," says Gelenberg, who was not involved in the study. "I do mostly what I want to do, and when I put in an extra hard week, it's my choice."
For those lower on the totem pole, the researchers say long hours at the office could contribute to depression in several ways—by creating family or relationship conflicts, for instance, or by elevating levels of the stress hormone cortisol.
Next page: Sleep deprivation likely also to blame