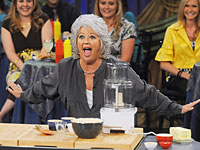 Getty Images
By Amanda Gardner
TUESDAY, January 17, 2012 (Health.com) — Celebrity chef Paula Deen, who appeared this morning on the Today show to confirm rumors that she has type 2 diabetes, likely faces an uphill battle in managing her disease, experts say.
With time and effort, many people can control diabetes through diet and lifestyle changes alone, without the aid of drugs. But age and a lifetime of less-than-healthy eating may be working against the 64-year-old doyenne of Southern cooking, who announced that she is taking—and serving as a paid spokesperson for—an injectable diabetes drug known as Victoza.
"It's a tough battle partly because it's 65 years in the making, and to change your habits at a later stage in life can be challenging," says Robert Graham, M.D., an internist at Lenox Hill Hospital, in New York City, who has not treated Deen. "But time and time again we have seen people very activated and motivated, especially when they…finally have a diagnosis like diabetes. Sometimes it's a wake-up call."
Victoza has been linked to thyroid tumors in animal studies. At the urging of the Food and Drug Administration, doctors generally prescribe the drug only when lifestyle changes and at least one other diabetes medication have failed. That may be an indication that Deen, who hid her diagnosis from the public for three years, has had trouble controlling her condition.
Victoza "usually is a second [to] fourth option," says Ronald B. Goldberg M.D., an endocrinologist and diabetes researcher at the University of Miami's Miller School of Medicine.
Deen, of course, is famous for the fat-laden, calorie-heavy dishes she serves up on the Food Network and in her best-selling cookbooks. Since being overweight is a major risk factor for type 2 diabetes, it's tempting to attribute her diagnosis to her sturdy physique and her taste for buttery, creamy dishes. In reality, however, the causes of diabetes tend to be more complicated.
On the Today show, Deen emphasized to Al Roker that age, genes, stress, and other non-dietary factors can all contribute to the development of diabetes—and she has a point, says Keri Gans, a registered dietitian and the author of The Small Change Diet. "A lot of factors go into somebody getting type 2 diabetes," Gans says. "We can't just pinpoint one thing such as her cooking or…her weight."
Family history is indeed a big factor, as Deen noted. People who have a parent or sibling with type 2 diabetes have about a 50% chance of developing diabetes themselves by the time they reach their 40s or 50s, says Jacob Warman, M.D., chief of endocrinology at the Brooklyn Hospital Center, in New York City.
It's not a factor that seems to have come into play for Deen, however. The chef told USA Today that she's the only person in her family to have been diagnosed with diabetes. ("My grandmother cooked and ate like I ate, and she didn't have it," she said.)
Next page: A diabetes diagnosis can be daunting