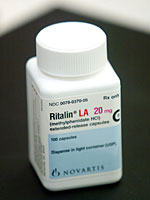 Getty Images
By Amanda Gardner
MONDAY, December 12, 2011 (Health.com) — The million-plus U.S. adults who take medication for attention deficit hyperactivity disorder (ADHD) do not appear to be increasing their risk of heart attack or stroke, as some experts have feared, according to a new study published today on the website of the Journal of the American Medical Association.
Stimulant medications—a class that includes Ritalin, Adderall, Concerta, and their generic versions—and the non-stimulant drug Strattera have all been shown to slightly raise blood pressure and heart rate, which can contribute to heart problems.
Researchers haven't conclusively linked these side effects to heart attacks, strokes, or sudden death from heart-related causes, but the Food and Drug Administration (FDA) has received numerous reports of these and other heart problems in people taking stimulants for ADHD. In 2006, the FDA ordered stimulant manufacturers to add warnings about potential heart risks to their product labels, although the agency stopped short of requiring the so-called black box warning an advisory panel had recommended.
The new study, which was funded and partly overseen by the FDA and other federal health agencies, is the largest of its kind to date and seems to bear out the FDA's decision to opt for a milder label warning.
Researchers at several large health insurers across the nation analyzed the medical and pharmacy records of 443,198 people between the ages of 25 and 64, roughly one-third of whom had filled prescriptions for stimulants or Strattera.
After controlling for other factors that can increase cardiovascular risk (such as smoking), the authors found no increase in heart attack, stroke, or sudden cardiac death rates among people who were currently using an ADHD drug. Nor did they find any differences in cardiovascular risk among people who had taken ADHD medications in the past and those taking them currently.
Although the findings should allay the fears of people taking these medications, the study doesn't entirely rule out the possibility of small increases in heart risk, says lead author Laurel Habel, PhD, a research scientist with the Kaiser Permanente Division of Research, in Oakland, Calif.
"Our study suggests that these drugs are not associated with a markedly elevated risk, but we can't say that they're completely safe," Habel says. "It makes sense for patients and doctors to talk about the potential risks."
Next page: 1.5 million adults take stimulants