Even though the holidays are officially in full swing, you still can find time to eat delicious, healthy meals at home! All of the meals this week taste great the first day but even better the second! If an early winter cold has you down, my Asian chicken-noodle soup is just the right prescription—it's loaded with greens and spices to ward off any sniffles.
Grocery list
3 lbs. boneless, skinless chicken
6 cloves garlic
1 large knob fresh ginger
Sesame oil
Olive oil
1 large fennel bulb
64 oz. vegetable stock
1 can (28 oz.) whole tomatoes in juice
1 package fresh tortellini pasta (either cheese or spinach)
2 cups either pinto, kidney, or heirloom beans, either canned or cooked from scratch
1 large bag fresh spinach
Parmesan cheese
1 yellow onion
Paprika
Cayenne pepper
1 container sour cream
Flour
1 stick butter
1 pint milk
Baking powder
4 quarts chicken broth
1 jalapeño
3 green onions
Soy sauce
Rice vinegar
2 bunches baby bok choy
1 package Chinese noodles
Sriracha sauce
Fresh cilantro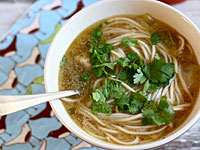 Asian Chicken-Noodle Soup
A spicy, delicious version of everyone's favorite get-well soup
Serves 6
1 lb. boneless, skinless chicken breasts, cut into chunks
2 cloves garlic, minced
1 tbsp. minced fresh ginger
1 tbsp. sesame oil
1/4 tsp. salt
6 cups chicken broth
1 jalapeño, thinly sliced
3 green onions, sliced
2 tbsp. soy sauce
1 tbsp. rice vinegar
2 bunches baby bok choy, chopped
5 oz. Chinese noodles (about half a package)
Sriracha sauce for serving (optional)
Chopped cilantro for serving (optional)
1. Heat sesame oil over medium-high heat in a large heavy-bottomed stock pot. Add minced garlic and ginger and briefly sauté for about 30 seconds. Add chicken and bok choy, sprinkle with salt, and sauté for another 3 minutes until chicken has turned white but is not completely cooked all the way through.
2. Add chicken broth, jalapeño, and green onions to pot and bring to a simmer. Cook for 15 minutes until chicken is done.
3. Meanwhile, cook noodles in boiling salted water, drain, and rinse with cold water. Set aside.
4. Add rice vinegar and soy sauce, and stir. Add noodles to pot and serve with chopped cilantro and sriracha sauce on the side.
Next page: Chicken Paprika With Homemade Dumplings