Wild Rice With Caramelized Shallots, Pecans and Cranberries
This beautiful rice dish pairs perfectly with roast turkey and all the fixings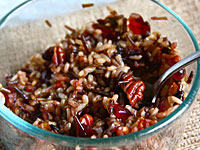 Serves 8
2 cups wild rice
1 tsp. salt
3/4 cup pecans, roughly chopped
2 shallots, thinly sliced
3/4 cup dried cranberries
2 tbsp. olive oil
2 tbsp. brown sugar
1. Combine rice, salt, and 4 cups water in a large pot and bring to a boil. Cover, reduce heat to simmer, and cook for about an hour (or until all the water has been absorbed).
2. Meanwhile, preheat oven to 350 degrees and place pecans on a foil-covered sheet tray. Cook for 5 minutes, until fragrant and toasty (be careful not to burn them!). Boil 3 cups water and combine with dried cranberries; let plump for 10 minutes. Drain water.
3. Heat olive oil over medium-high heat and add thinly sliced shallots. Sauté for 10 minutes over medium-low heat; add brown sugar and continue sautéing for another 3 minutes, stirring constantly.
4. After rice has cooked, fluff with a fork and remove from heat. Add shallots, cranberries, and toasted pecans. Season with salt to taste.
Flaky French Crescent Rolls
Soft, flaky, delicious rolls that your guests will adore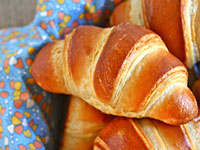 Makes about 20 rolls
1 package dry yeast (1/4 oz.)
1/2 tsp. sugar
3/4 cup milk, scalded and cooled slightly (should be about 100 degrees—not too hot, not too cold. To scald milk, heat on medium-high heat until bubbles form around the edges of pot. Be careful—milk can easily burn!)
1 egg, beaten with a fork
1 tbsp. shortening
2 tbsp. sugar
1 tsp. salt
2 1/2 cups flour
For laminating:
6 tbsp. butter, softened
For baking:
1 egg yolk
1. Combine 1/2 tsp. sugar and 1/4 cup warm water (about 100 degrees), then combine with yeast in a glass measuring cup or small bowl. Mix with your finger until combined (no yeast clumps) and let sit for about 5 minutes until foamy and creamy.
2. Meanwhile, combine beaten egg, scalded-and-cooled milk, shortening, sugar, and salt in a large bowl. Add flour and yeast, and mix for about 6 minutes until dough is smooth and elastic. If using a KitchenAid mixer, use your paddle or dough-hook attachment and mix on medium-high speed until the dough clears the sides of the bowl. It will seem sticky at first, but keep mixing (or kneading by hand) and it will become smooth.
3. Place dough ball in a greased bowl, cover with a dishcloth or plastic wrap, and let rest in the refrigerator for 30 minutes.
4. After 30 minutes, remove dough from fridge and roll out on a lightly floured surface to a large, 1/4-inch-thick rectangle. Spread softened butter all over dough, leaving an inch around the sides of the rectangle, being careful not to break through the dough with butter.
4. Fold one half of the rectangle toward the center, then fold the other half over the first layer so you have three dough layers. Fold in half one more time, cover with plastic wrap, and place in fridge for 30 minutes.
5. Roll out dough again to a long rectangle (roll gently, being careful of the butter) and fold dough again into thirds like a book. Place back in fridge for 30 more minutes. Repeat this process two more times. At this point, you can either proceed with the directions or wrap the dough tightly with plastic wrap and place in the fridge overnight.
6. To proceed, roll dough out to 1/8 inch thick. Slice into triangles. Roll each triangle up, starting with the wide end, and tuck the "tail" underneath the roll. Place rolls on a lined baking sheet, cover with a dishcloth or more plastic wrap, and let rise 1 to 1 1/2 hours until the dough doubles in size.
7. Preheat oven to 400 degrees. Combine egg yolk and 1 tbsp. warm water, and brush on each roll. Bake rolls for 12 minutes until golden brown.