I'm a fervent believer in the power of a good activity monitor to convince myself to make, shall we say, more energetic choices throughout the day—pacing while I'm chatting on the phone with my sister, taking the scenic route into my office from the parking deck. (I even got my daughter hooked on a kids' version, as you may have read in last week's blog.) So, naturally, when I heard about a quartet of new monitors—all of which use motion sensors to measure every move your body makes, even, in most cases, while you sleep—I had to give 'em a try. Drumroll, please!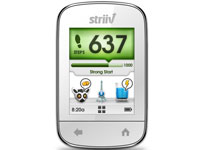 Striiv
How to wear it: Attach the monitor—which looks like a mini smartphone, complete with touchscreen—to your keychain and put it in your pocket, or snap it into its plastic holder and clip it to your clothing.
What it tracks: Steps, physical activity, time.
The coolest parts: It's very intuitive and needed the least setup time of the monitors I tested. You don't even have to connect it to the computer; just charge it with the wall charger. While the other monitors require you to download programs and visit their websites regularly to get the full benefits, the Striiv is much more self-sufficient—you can get your readings and access activity-focused games and challenges directly on the device. Here's the best part, though: Every step you take earns money for a worthy charity (you choose between clean water, polio vaccines, and rainforest conservation). How's that for motivation?
The drawbacks: It doesn't fit well in the holder and the idea of putting it on your keychain is really guy-centric. What woman carries her keys with her throughout the day? As a result, there's no easy, reliable way to hook it on your clothes, and it's too big and bulky to keep in most pockets. The display also fades too quickly (you have to start again from the home screen), and it doesn't record your sleep like the other three do.
Cost: $99 at Striiv.com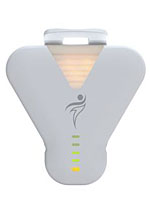 NewYu Connected Fitness Monitor
How to wear it: Clip the Y-shaped monitor anywhere on your body (or put it in your pocket).
What it tracks: Steps, other physical activity, sleep/rest. You can also log calorie intake and specific activities.
The coolest parts: As you move toward your daily goal (either a specific step count or number of calories burned—your choice), the LED bars on the monitor light up, showing your progress. The dashboard on the website is easy to use and it tracks up to 90 days of info, making it easy to see trends that might be affecting your weight.
The drawbacks: It's a little too bulky to fit comfortably in a pants pocket, and you have to plug it into the computer to sync up with the dashboard and see the actual numbers of steps you took and calories you burned (unless you have an Android device, in which case you can download an app and sync wirelessly via Bluetooth). The instructions also are sparse, although you can download a user's guide from the site—and there's no troubleshooting guide.
Cost: $100 at NewYu.com
Next page: BodyMedia FIT CORE Armband