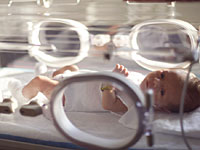 Getty Images
By Amanda Gardner
MONDAY, October 17, 2011 (Health.com) — Babies who are unusually small at birth have a higher-than-average risk of developing an autism spectrum disorder (ASD) later in life, a new study in the journal Pediatrics suggests.
Beginning in 1984, researchers followed 1,105 babies who weighed less than 4 pounds, 7 ounces at birth, and they found that 5% of them met the criteria for ASD by age 21—a rate roughly five times higher than that in the general population of children.
The rate seen in the study is "quite striking" and underscores the importance of screening all children—especially those who are born at a low birth weight—for ASD at a young age, says lead researcher Jennifer Pinto-Martin, PhD, the director of the Center for Autism and Developmental Disabilities at the University of Pennsylvania School of Nursing, in Philadelphia.
"Developmental screening is often something that is pushed to the side," she says. "It's important that we do a really good job of screening every single child."
Roughly 3% of U.S. newborns fall into the low-weight category used by the researchers (2,000 grams or less). Babies of this size are typically born prematurely, though certain pregnancy complications can also cause low birth weight in full-term babies.
Several previous studies have suggested that underweight or premature infants have a higher risk of autism. As with the new study, however, it's not clear from this research whether low birth weight directly contributes to ASDs.
"For years we have known there's a higher risk of delay and some impairments in some domains of development in low-birth-weight babies," says Diego Chaves-Gnecco, MD, a pediatrician at the Children's Hospital of Pittsburgh who specializes in development and behavior.
But it's difficult to attribute autism and other developmental problems to premature birth or low birth weight "because so many factors could be involved," says Dr. Chaves-Gnecco, who was not involved in the study.
Pinto-Martin and her colleagues periodically screened the children in the study for various developmental disabilities and delays beginning at age 2. When the participants were 16, the researchers screened slightly more than half of them for ASD. About 19% screened positive under a broad definition of ASD.
When the kids were 21, the researchers assessed a representative sample and found that 14 of 119 met the formal criteria for an ASD diagnosis. Extending these findings to the study participants as a whole, the researchers estimated the rate of ASD at 5%.
By comparison, the Centers for Disease Control and Prevention (CDC) estimates that 0.9% of 8-year-olds in the United States have an ASD. (The CDC uses age 8 as an index age for measuring the overall rate of ASD, since most cases are identified by that age.)
Next page: "All pediatricians" should be screening