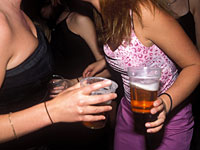 Getty Images
By Amanda MacMillan
WEDNESDAY, September 28, 2011 (Health.com) — Parents who are concerned about drinking and other risky behavior often try to steer their teenage children away from friends and dating partners whom they consider "bad influences."
Those parents may want to look one step further: A new study suggests that teenagers with a new boyfriend or girlfriend tend to be more influenced by the drinking habits of their romantic partner's friends than they are by the partners themselves.
Why? Dating introduces adolescents to new and different social networks and also creates a kind of indirect peer pressure, says lead researcher Derek Kreager, PhD, an associate professor of crime, law, and justice at Pennsylvania State University, in University Park.
A teen's longtime friends tend to be like-minded when it comes to values and lifestyle, but romantic partners are more likely to come from a different circle. "Think of your son or daughter's new significant other as a bridge to a whole other group that he or she is now going to be exposed to," Kreager says.
When teenagers begin dating, they tend to meet in the middle when it comes to habits like drinking. If a teen girl who has yet to experiment with alcohol starts dating a boy who drinks often, for instance, the boy is likely to cut back while the girl is likely to give drinking a try.
"He has an incentive to change, to be more like her," Kreager explains. "On the other hand, his friends don't really have any reason to change, so they continue drinking. Meanwhile, she has incentive to be like those friends, because that's what appeals to her partner."
It's no surprise that social networks have a strong influence on personal health. Several studies from a research team based at Harvard University and the University of California, San Diego have documented how family and friends can "spread" obesity, drinking, smoking, and even happiness.
These social patterns may be even more important among teenagers, says Angela Diaz, MD, program and research director of the adolescent health center at the Mount Sinai Medical Center, in New York City.
"It's during adolescence that kids start exploring adult behavior and adult roles, and looking for acceptance and respect," she says. "And throughout high school, a child's peer groups will change dramatically based on the new behaviors they pick up and the new people they encounter."
Next page: Get to know your child's friends