This might be one of the thriftiest menus I've posted! From one bag of dried beans and one large chicken, you can feed your family well in a tasty and nutritious way. First, roast your chicken on Sunday for a comforting family meal, and then use the leftover chicken to make a delicious salad the next day! No one will even remember that they're eating leftovers. On your busiest day of the week, try my third recipe. You can throw a bag of black beans into a crock pot and head to work. When you get back, you can use them to prepare the perfect Cuban feast with brown rice, pan-seared shrimp, and avocado for topping. It's going to be a tasty week, indeed!
Grocery list
1 16-oz. bag dried black beans
1 yellow onion
1 jalapeño pepper
Avocado
1.5 heads garlic
1 lb. raw shrimp, deveined
Olive oil
Brown rice (Minute Rice or regular short or long-grain)
Cumin
Cayenne pepper
Hot sauce
1 4-5 lb. chicken, preferably free range and organic
Mayonnaise
Honey
Barbecue seasoning
Red grapes
Small bag slivered almonds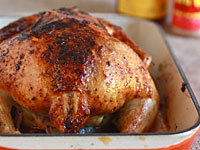 Honey Barbecue Roast Chicken
A sweet and spicy comfort meal that the whole family will love!
Serves 4
1 4-5 lb. chicken, preferably free range and organic
1/4 cup honey
2 tbsp. barbecue seasoning (I love Famous Dave's!)
1 tbsp. olive oil
1 head garlic
1-2 tsp. salt
1. Preheat oven to 425. Pull the giblet bag out of the chicken's cavity and discard. Slice the top off the garlic head and stuff into chicken.
2. Place chicken in a large pan or roasting dish. Rub barbecue seasoning and salt all over chicken and drizzle with olive oil.
3. Roast for about 90 minutes, then check with a meat thermometer to make sure internal temperature has reached 180 degrees. After removing chicken from oven, brush with honey. Let chicken sit for 10 to 15 minutes before carving. Remove and discard garlic.
4. Serve with mashed potatoes, gravy, and your favorite green vegetable.
Next page: Sonoma Chicken Salad