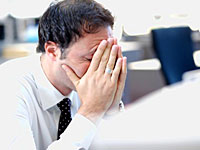 Getty Images
By Carina Storrs
THURSDAY, July 7, 2011 (Health.com) — History shows that the suicide rate tends to rise as the economy falls, but due to a lack of solid data, researchers haven't been able to confirm whether that pattern has held during the most recent economic crisis, the worst since the Great Depression.
Now, a brief analysis of 10 European countries published today in the Lancet—the first to use government data on suicide rates from the past few years—suggests that the ongoing economic downturn may be no different, and in fact may have had a larger impact on suicide rates than expected.
The unemployment rate climbed in all the countries between 2008 and 2009, and by as many as 7.9 percentage points (to 13.7%) in the case of Lithuania. (By comparison, unemployment in the U.S. rose by about 2.5 points.) Over the same period, the researchers found, the suicide rate increased in all but two countries and soared by as much as 25% in Ireland, from 9.3 to 11.6 suicides per 100,000 people.
The rise in suicide rates was larger than the researchers expected and exceeded those seen in earlier recessions, says the lead author, David Stuckler, PhD, a sociology lecturer at the University of Cambridge, in England. "From the limited data we have, we're seeing that it's more toward the worst-case scenario."
The reasons for the link between unemployment and suicide rates aren't entirely clear but make intuitive sense. One possibility, Stuckler says, may be that as more people compete for fewer jobs, growing feelings of hopelessness among the unemployed could push some people into suicidal thinking and behavior, especially those who are already at risk.
The economic crisis in the U.S. has rivaled that in Europe, so the study begs the question whether the ongoing economic downturn has had a similar effect on suicide rates and other health measures in the U.S.
That's "what everyone is chomping at the bit to know," says Timothy Classen, PhD, an assistant professor of economics at Loyola University Chicago.
Next page: "I would be shocked if the suicide rates didn't go up"