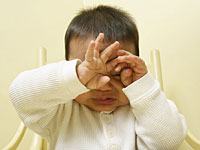 Getty Images
By Amanda Gardner
THURSDAY, April 28, 2011 (Health.com) — A quick and simple questionnaire given to parents during a regular checkup in a pediatrician's office may help detect autism in children as young as 1 year old, a new study suggests.
The 24-item questionnaire, which assesses a child's ability to communicate with eye contact, sounds, and gestures, may steer infants who show early signs of autism spectrum disorders (ASDs) into appropriate treatment at earlier ages, the researchers say.
Identifying language and developmental delays in babies may also help scientists uncover the underlying neurological processes of autism, paving the way for more effective treatments, says Karen Pierce, Ph.D., the lead author of the study.
"Most of the studies on autism are on adolescents and adults," says Pierce, an assistant professor of neuroscience at the University of California San Diego (UCSD), in La Jolla. "Some [are] on children, but very few people have the ability to study autism in babies, because we can't diagnose it until 3 or 4 years. How in the world are we going to discover the causes if we're studying brains that have had a lifetime of living with autism, and [have] a host of compensatory mechanisms?"
The average age of ASD diagnosis is around 5 years old, though most of those children show signs of developmental problems before age 3, according to the Centers for Disease Control and Prevention. There are no biomarkers to indicate that a child has autism, so clinicians have to rely on behavioral clues, making diagnosis tricky. And even when a child is accurately diagnosed early, he or she often doesn't start treatment until some time after the diagnosis.
The questionnaire used in the study is a simple checklist that asks parents to say whether their baby displays certain types of communication "often," "sometimes," or "not yet." It takes just five minutes to fill out and can be scored on the spot.
The checklist does not zero in specifically on autism but "will tell you something is wrong," Pierce says. That could be the early signs of autism or another type of language or developmental delay.
Next page: More than 10,000 children screened