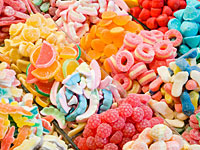 Getty Images
By Amanda Gardner
TUESDAY, March 29, 2011 (Health.com) — Jell-O, Hawaiian Punch, Pop-Tarts, Skittles, and other brightly colored foods designed to appeal to children aren't exactly health food. But do they make kids hyperactive?
Doctors and consumer advocates have long wondered whether hyperactivity might be tied to certain dyes and additives used in processed foods, but in decades of research no studies have been able to conclusively prove—or disprove—such a link.
Now, the Food and Drug Administration (FDA) is formally weighing the evidence, raising the possibility that the agency may eventually strengthen its regulation of these ingredients.
In a two-day meeting beginning Wednesday, an FDA advisory committee will discuss the strength of the evidence surrounding food dyes and behavior changes in children, whether food labels should be changed to better protect consumers, and whether more studies on the subject need to be conducted. (The FDA is not required to follow the recommendations of its advisory committees, but it usually does.)
The debate over the potential effects of food dyes has been simmering since the 1970s. Why is the FDA acting now?
The main impetus appears to be a 2008 petition from a Washington, D.C-based watchdog group, the Center for Science in the Public Interest (CSPI), which asked the FDA to ban eight different food dyes including Yellow No. 5—found in macaroni-and-cheese mixes, lemon-lime Gatorade, Lucky Charms cereal, and many other foods.
The FDA reviewed the petition and, in September 2010, decided that color additives didn't directly cause hyperactivity or attention deficit hyperactivity disorder (ADHD), a condition characterized by chronic attention and behavioral problems. However, it didn't rule out that they might exacerbate preexisting problems in children with ADHD.
No one knows what the FDA committee will decide, but the research so far "doesn't appear to be conclusive evidence that food additives actually cause ADHD," says Kate Ulbricht, cofounder of the Natural Standard Research Collaboration, an independent research group based in Somerville, Mass. "Some research suggests that they may be linked to exacerbated symptoms in people who already have ADHD."
Tying hyperactivity to specific food dyes or additives is especially difficult, Ulbricht adds, because "most products contain more than one." Indeed, some types of candy contain as many as 10.
Next page: A long-standing debate