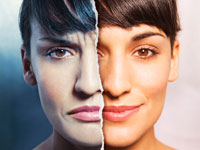 Getty Images
By Amanda Gardner
MONDAY, March 7, 2011 (Health.com) — About 2.4% of people around the world have been diagnosed with bipolar disorder at some point in their lifetime, according to the first comprehensive international figures on the topic.
The United States has the highest lifetime rate of bipolar disorder at 4.4%, and India the lowest, with 0.1%.
Bipolar disorder is characterized by cycles of depression and mania, a euphoric, high-energy state that can result in heightened levels of creativity or output as well as erratic or risky behavior. People with bipolar disorder are at high risk of substance abuse and suicide, and treatment includes psychiatric care and medication.
However, fewer than half of people with the disorder were treated by a mental health professional, and only a quarter of those in lower-income countries sought treatment, according to the 11-nation study in the March issue of Archives of General Psychiatry.
"It's very important that we understand the scope and magnitude of this disorder so that we can plan appropriate treatments, facilitate recognition of diseases, and identify people at risk so we can bring them into treatment," says the study's lead author, Kathleen Merikangas, PhD, chief of the genetic epidemiology research branch at the National Institute of Mental Health in Bethesda, Md.
The U.S. ranked higher in every category of bipolar disorder as did, in general, other high-income countries. One exception was Japan, which had a lifetime prevalence of 0.7%. Colombia, a lower-income nation, also bucked the trend with a relatively high prevalence of 2.6%.
The study included people with either bipolar I or II. Bipolar I has the most severe symptoms (both depression and mania) and bipolar II has less severe symptoms.
Despite the regional variations, there were many similarities across the countries studied, including comparable symptoms and the fact that many people with bipolar disorder also had another mental health problem, usually an anxiety disorder (most often panic attacks).
No matter where people lived, bipolar disorder caused serious problems and impairment. About three-quarters of people with depression and half of those with mania said their symptoms disrupted their work or social life and relationships.

Next page: Reasons why U.S. may have a higher rate