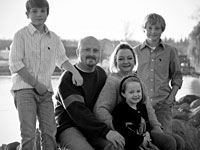 (Dianna Hart)
By Amanda Gardner
THURSDAY, October 28 (Health.com) — Donna Landrigan had been acting strangely for almost a month.
Weeks of pounding, wall-to-wall headaches had left the normally calm and confident 35-year-old mother of three feeling confused, anxious, and doubting. "She couldn't function," recalls Dan Landrigan, Donna's husband. "She couldn't do anything, and she had these really intense levels of paranoia."
Over-the-counter medications did nothing to relieve her headaches, and visits to the doctor and a local emergency room were similarly fruitless. Donna's state of mind continued to deteriorate. The breaking point finally came on a December night in 2008, when she stood in the middle of the kitchen floor and screeched at the top of her lungs.
"It was a bloodcurdling scream," Dan recalls. Later that night, Dan found his wife slumped on the concrete floor of the garage, moaning.
That chilling evening marked the beginning of a medical odyssey that would ultimately involve four hospitals, experts in three states, and 10 months of guessing, testing, doubting, and hoping. Something was attacking Donna's brain. She'd spend five months in a drug-induced coma before doctors knew what it was.
Buying time
An ambulance rushed Donna to the ER after she collapsed, but she was quickly transferred to the intensive-care unit (ICU) at nearby Highland Hospital, in Rochester, N.Y. Neurologist Nick Johnson, MD, was there when she arrived.
"She was psychotic and required restraints, both physical and emotional," Dr. Johnson says, referring to tranquilizers. "She was trying to hurt herself and the people around her."
Dr. Johnson was perplexed. After hearing her symptoms, he at first suspected encephalitis, a swelling of the brain usually related to an infection. He tested Donna for more than a hundred viruses and bacteria that can cause the condition, but everything came back negative. In no state to return home, Donna was admitted to the hospital for tests and observation.
Two weeks later, Dr. Johnson and his team had a breakthrough when an electroencephalogram, or EEG, revealed recurring seizures in Donna's brain that were unaccompanied by physical symptoms—a serious condition, known as nonconvulsive status epilepticus, that kills 56% of the people it affects. But their relief at having finally arrived at a diagnosis was short-lived; the seizures failed to respond as expected to a slew of drugs.
Next page: "The kind of thing you see on ER"