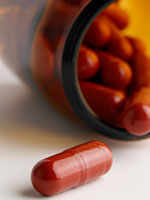 Getty Images
By Amanda Gardner
MONDAY, October 25 (Health.com) — Bottles of the popular cholesterol-lowering supplement red yeast rice almost always list 600 milligrams of rice as the sole ingredient. But different brands of capsules contain widely varying amounts of the active ingredient that fights cholesterol, a new study suggests.
The active ingredients in red yeast rice, a type of fermented rice, are compounds known as monacolins that slow the production of cholesterol in the liver. One compound, monacolin K, is a naturally occurring version of the prescription drug lovastatin.
The study was conducted by researchers from ConsumerLab.com, who analyzed the ingredients of 12 red yeast rice products that were bought in stores or ordered over the Internet. (ConsumerLab.com is a company that independently tests dietary supplements and other nutritional products.)
Although each brand of capsule was said to contain 600 milligrams of red yeast rice, the level of monacolins ranged across brands, from a low of 0.31 milligrams to a high of 11.15 milligrams per capsule—a 100-fold difference, the researchers found. Levels of monacolin K varied by a similar amount.
Although the brands were not named in the study, previously published ConsumerLab.com data indicate that they included Nature's Plus, Solaray, and Walgreens.
The fact that consumers who take red yeast rice capsules don't know exactly how much active ingredient they're ingesting could be a problem, the researchers say.
"Red yeast rice is certainly effective at lowering cholesterol and may have an important role in people who can't take statins or [who] refuse to take statins, but there's a lot of variability and potentially dangerous side effects," says the lead author of the study, Ram Gordon, MD, a cardiologist at Chestnut Hill Hospital, in Philadelphia, and Abington Memorial Hospital, in Abington, Pa. "Until there's better regulation and oversight, we all have to be very cautious in recommending it to patients."
What's more, one-third of the products contained small but detectable amounts of citrinin, a toxin that can cause kidney failure in animals, according to the study, which appears in the Archives of Internal Medicine. The risk citrinin poses to humans isn't clear.
Stephen Kopecky, MD, a cardiologist at the Mayo Clinic, in Rochester, Minn., says that the variability seen in the study is "nothing new." He generally discourages patients from taking red yeast rice and other cholesterol-lowering supplements and instead recommends low doses of lovastatin. "You can get that for about $10 for three months at many of the big pharmacies," he says. "It's the same substance but a more exact amount."
Next page: An industry-wide problem