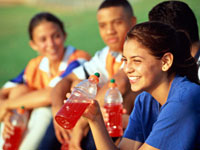 Getty Images
By Sarah Klein
MONDAY, September 27, 2010 (Health.com) — Advertisements for sports drinks have long featured world-class athletes such as Michael Jordan, Mia Hamm, and LeBron James. The message is clear: If you want to "be like Mike," pick up a Gatorade.
This marketing strategy seems to have worked. According to a new study in Pediatrics, teenagers who are more active in sports and other physical activities are more likely than their less-active peers to quench their thirst with sports drinks, while teens who spend a lot of time watching TV or playing video games tend to drink more soda.
Consuming sports drinks and other non-carbonated sugary beverages (such as fruit punch) was also linked to eating more fruits and vegetables, especially among girls, the study found. By contrast, fruit and vegetable intake tended to fall as soda consumption rose.
The results aren't surprising, but the researchers say they suggest that candy-colored sports drinks have developed a dubious reputation among young people as a healthy alternative to soda.
"It seems to me that people who want to pursue a healthy lifestyle are somehow being misled to believe that these drinks are somehow good for them," says the lead author of the study, Nalini Ranjit, PhD, an assistant professor at the University of Texas School of Public Health at Houston.
Ranjit and her colleagues analyzed data from a survey of more than 15,000 middle- and high-school students in Texas. A majority of the teens reported consuming sweet drinks: More than 60% of boys and 50% of girls drank at least one soda, sports drink, or other sugary beverage per day. (The questionnaires used in the study lumped sports drinks together with fruit punch, iced teas, and other non-soda beverages.)
Even one soda can provide a daily dose of sugar bigger than experts recommend. According to 2009 guidelines from the American Heart Association, adult men and women should consume no more than 37 grams and 25 grams of added sugar per day, respectively, while children should limit their intake to 12 grams. One 12-ounce can of regular Coca-Cola has 140 calories and 39 grams of sugar.
Next page: Sports drinks contain a lot of sugar too