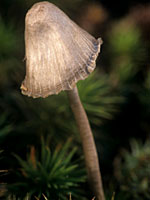 Getty Images
By Anne Harding
MONDAY, September 6 (Health.com) — Terminally ill cancer patients struggling with anxiety may get some relief from a guided "trip" on the hallucinogenic drug psilocybin, a new study suggests.
The study included 12 patients who took a small dose of psilocybin—the active ingredient in "magic mushrooms"—while under the supervision of trained therapists. In a separate session, the participants took a placebo pill, which had little effect on their symptoms.
By contrast, one to three months after taking psilocybin the patients reported feeling less anxious and their overall mood had improved. By the six-month mark, the group's average score on a common scale used to measure depression had declined by 30%, according to the study, which was published in the Archives of General Psychiatry.
In follow-up interviews with the researchers, some patients said their experience with psilocybin gave them a new perspective on their illness and brought them closer to family and friends.
"We were pleased with the results," says the lead researcher, Charles Grob, MD, a professor of psychiatry at Harbor-UCLA Medical Center, in Torrance, Calif.
Notably, the psilocybin did not aggravate the patients' anxiety or provoke any other unwanted effects besides a slight increase in blood pressure and heart rate.
Dr. Grob's findings are "important because he's showing that you can administer these compounds safely to cancer patients with anxiety," says Roland Griffiths, PhD, a professor of psychiatry and neuroscience at the Johns Hopkins University School of Medicine, in Baltimore.
"They're not substances that should be used recreationally or casually, but nonetheless it appears that we can conduct research with these compounds safely," adds Dr. Griffiths, who was not involved in the study but has researched the therapeutic effects of psilocybin. (He and his colleagues are currently enrolling patients in a similar study that will use larger doses of the drug.)
Next page: Researchers have been keen to demonstrate safety