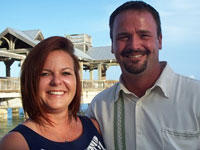 Jeannette Potter
By Amanda Gardner
WEDNESDAY, July 21 (Health.com) — Jeanette Potter was in the Atlanta airport when she started to feel a bit off.
"I thought I had the flu, but it was a heavier kind of flu," says Potter, 34, who had been flying home to Rochester, N.Y., after a weeklong vacation in Key West. "I was achy. I had a headache. I was kind of disoriented."
Her symptoms weren't from the flu, as it turns out. They were the early signs of dengue fever, a viral disease native to the tropics but incredibly rare in the continental U.S.—so rare that it took two weeks, three visits to the doctor, and one trip to the emergency room before experts at the Centers for Disease Control and Prevention (CDC) finally identified what ailed her, in September 2009.
Potter is the first known victim of a dengue fever outbreak that has since led to more than two dozen confirmed cases in Key West, and, health officials fear, may be headed north.
Also known as "breakbone fever" because of the shattering pain it causes, dengue fever is transmitted by a mosquito found in warm climates, and is not contagious. (Potter got several mosquito bites in Key West.) People often contract dengue fever without realizing they have it, but in some cases it can lead to dengue hemorrhagic fever, a severe form of the illness which causes internal bleeding and can lead to shock and even death.
A day after returning from her trip, Potter felt much worse. Her aches were joined by chills, a low-grade fever, and a pounding headache that Tylenol and Advil were powerless to stop.
"My head hurt so bad that I wouldn't wish it on my worst enemy," she recalls. "It hurt to move my eyes. I was getting to the point where I couldn't function mentally. I was in a fog."
Oddly, Potter also noticed that her urine was discolored. She suspected a urinary tract infection, as did her doctor, Adriane Trout, MD, a family physician at Rochester General Hospital, who prescribed antibiotics.
Two days later, Potter returned to Dr. Trout's office and failed an equilibrium test (like the one used in field sobriety tests). Dr. Trout sent her to the emergency room. The ER physicians originally suspected spinal meningitis, but after eight hours of tests—including a spinal tap and a CT scan, both negative—they hadn't confirmed a diagnosis.
Next page: "I can't even articulate the crazy pain"