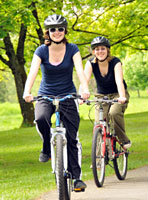 Istockphoto
By Amanda Gardner
MONDAY, JUNE 28 (Health.com) — Biking for as little as five minutes a day can help women minimize weight gain as they enter middle age, especially if they're overweight to begin with, a new study suggests.
The study followed more than 18,000 premenopausal women between the ages of 25 and 42 for 16 years. During that time, the women gained an average of about 20.5 pounds.
Women who started biking for just five minutes a day gained about 1.5 fewer pounds over the course of the study than similar women who didn't take up biking, the researchers found. Women who increased their daily biking by 30 minutes during the study kept even more weight off, gaining about 3.5 fewer pounds than those whose biking habits stayed the same.
"Bicycling is an answer to weight control," says the lead author of the study, Anne Lusk, PhD, a research fellow in nutrition at the Harvard School of Public Health, in Boston. "Walking is not necessarily an answer, unless the person is walking briskly."
Indeed, Lusk and her colleagues found that women who increased the time they spent walking briskly by 30 minutes per day during the study gained about 4 pounds less than their peers who didn't increase their walking. (A "brisk" pace is 3 mph or more.) On the other hand, women who only walked slowly did not manage to prevent any weight gain.
Women who were overweight or obese at the start of the study experienced even better results than normal-weight women when they increased their daily physical activity. Overweight women who biked for 30 extra minutes per day over the course of the study gained about 7 pounds less than those who didn't, for instance.
The findings should encourage overweight women to not give up on exercise, says Suzanne Steinbaum, DO, director of Women and Heart Disease at Lenox Hill Hospital, in New York City. "People tend to say, 'I'm too fat. I can't do it. It's too difficult.' A study like this reminds them not to give up. Do something."
The study appears this week in the Archives of Internal Medicine. Previous research has shown the weight benefits of daily walking, but few studies have focused specifically on biking and none have compared walking with biking.
Next page: Biking's easy to incorporate in everyday life