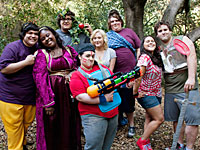 ABC Family/Bruce Birmelin
By Denise Mann
WEDNESDAY, June 23, 2010 (Health.com) — Mia Procida, 14, will be starting her eighth summer at Camp Pocono Trails in Reeders, Pa. at about the same time a new television show, called Huge, premieres on the ABC Family network on Monday, June 28th. Starring Nikki Blonsky and Hayley Hasselhoff, the show portrays the adventures and misadventures of seven teens attending a weight-loss camp a bit like Procida's.
Procida, for one, is excited about the premiere. "The commercial reminds me of my camp in some ways," she says of Camp Pocono Trails, which was the subject of the MTV documentaries Fat Camp and Return to Fat Camp.
But will Huge provide role models for overweight kids and inspire them to lose weight and get healthy? Or will the show skip obesity's physical risks to focus on the psychological and social drama?
Kim Rozenfeld, one of the show's executive producers, says the health risks, including diabetes, will not be glossed over or over-dramatized on Huge.
"We attempt to illustrate a lot of the conditions that revolve around teen obesity, but in a way that ties into the story and the characters, so makes more of an impact," he says. In one scene, for example, a camper with diabetes is shown testing his blood sugar. "The episode is not about that, but it's a featured part of the character, so we try to incorporate it organically," Rozenfeld says.
Next page: Teen years can be turbulent