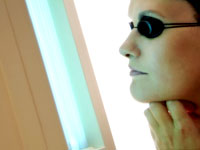 Istockphoto
By Lynne Peeples
THURSDAY, MAY 27 (Health.com) — People who regularly use tanning beds may double or even triple their risk of developing melanoma, the deadliest form of skin cancer, according to a new study.
The study found that people who have ever tanned indoors have about a 75% higher risk of melanoma, on average, than people who have never tried it.
But the risk of melanoma was much higher among frequent and long-term indoor tanners. Compared to those who had never touched a tanning bed, people who spent more than 50 hours under the lights were three times more likely to develop melanoma, according to the study, which is the largest of its kind to date. People who frequented tanning salons for more than 10 years or who logged more than 100 sessions were about 2.5 times more likely to develop the cancer.
The study comes as an FDA advisory panel is pondering tougher regulations on indoor tanning, including use restrictions (if not an outright ban) for people under age 18. At a meeting in late March, the panel discussed strengthening skin-cancer warnings at tanning salons and moving tanning beds to a class of medical devices that includes CT scanners, among other measures.
Amy Waldrop, of Clifton, Va., who was 41 years old when she first learned she had melanoma skin cancer, told the FDA panel that her doctors said her use of tanning beds as a teenager was likely responsible.
"Even after seeing my surgical scars, my teenage daughters have expressed an interest in using tanning beds," says Waldrop. "They've told me that if tanning beds were that bad, they wouldn't be legal."
The testimony the FDA panel heard in March was "pretty compelling," says Lynn Drake, MD, a dermatologist at Massachusetts General Hospital, in Boston, and a nonvoting member of the panel. "This new study adds to the body of evidence supporting the fact that indoor tanning poses significant risks."
Teens, however, do not seem to be more susceptible than adults to artificial ultraviolet (UV) rays. The study results suggest that a person's melanoma risk is more closely linked to total exposure than to the age at which he or she first tans indoors.
"Given our findings, the age you start indoor tanning may matter less than how much you do it," says the lead author of the study, DeAnn Lazovich, PhD, a professor of epidemiology at the University of Minnesota. "Maybe a ban should also be considered for adults."
Nearly 70,000 people in the U.S. were diagnosed with melanoma in 2009 and more than 8,000 died from the disease, according to estimates from the National Cancer Institute. Melanoma is deadly because it can invade deep into tissues and spread to other parts of the body, unlike other types of skin cancer, which are relatively easy to remove. Melanoma is the second most common cancer among people ages 15 to 29, and appears to be on the rise overall.
Next page: Findings likely to bolster regulation efforts