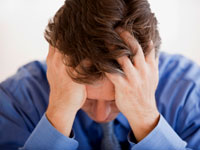 Getty Images
By Denise Mann
TUESDAY, May 18, 2010 (Health.com) — People who experience serious head injuries often require days—if not weeks—of medical care to get back on their feet. For most of them, the mental aftershocks will last long after they've checked out of the hospital.
More than half of all people who sustain a traumatic brain injury will become depressed in the year following the injury, a rate eight times higher than in the general population, according to a new study in the Journal of the American Medical Association. And only about 45% of those who do become depressed are likely to receive adequate treatment.
"We're not talking about normal day-to-day changes in mood, but symptoms that last for more than two weeks," says the lead author of the study, Charles Bombardier, PhD, professor of rehabilitation medicine at the University of Washington School of Medicine.
Symptoms to watch for include low mood, low energy, feelings of worthlessness or guilt, difficulty concentrating, acting restless or slowing down, and thoughts of death, says Bombardier. Previous research has shown a higher rate of suicide following traumatic brain injury, he adds. "Any signs that the person may be thinking of killing himself should be taken very seriously."
Brain injuries themselves may cause changes in brain structure and function that predispose people to depression, says Bombardier. But certain factors also seem to increase a person's risk, including a history of alcohol abuse or depression before the injury.
The people who were depressed were more likely than the non-depressed patients to say they were experiencing trouble with pain, mobility, and everyday activities after their injury, but it's unclear whether these problems were responsible for the depression, or vice-versa.
Each year in the United States about 1.7 million people suffer traumatic brain injuries, according to the Centers for Disease Control and Prevention (CDC). These injuries, which range from mild concussions to coma-inducing trauma, claim tens of thousands of lives each year.
Most of the participants in the study sustained their injuries in falls, car crashes, or other accidents involving vehicles. Although this study focused on civilians, the authors note that traumatic brain injury is a "signature" injury among soldiers. As many as 360,000 U.S. soldiers in Iraq and Afghanistan have experienced these injuries, the U.S. Department of Defense has estimated.
Next page: 53% of patients were depressed within one year