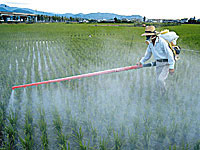 Getty Images
By Sarah Klein
MONDAY, May 17, 2010 (Health.com) — Children exposed to higher levels of a type of pesticide found in trace amounts on commercially grown fruit and vegetables are more likely to have attention deficit hyperactivity disorder (ADHD) than children with less exposure, a nationwide study suggests.
Researchers measured the levels of pesticide byproducts in the urine of 1,139 children from across the United States. Children with above-average levels of one common byproduct had roughly twice the odds of being diagnosed with ADHD, according to the study, which appears in the journal Pediatrics.
Exposure to the pesticides, known as organophosphates, has been linked to behavioral and cognitive problems in children in the past, but previous studies have focused on communities of farm workers and other high-risk populations. This study is the first to examine the effects of exposure in the population at large.
Organophosphates are "designed" to have toxic effects on the nervous system, says the lead author of the study, Maryse Bouchard, PhD, a researcher in the department of environmental and occupational health at the University of Montreal. "That's how they kill pests."
The pesticides act on a set of brain chemicals closely related to those involved in ADHD, Bouchard explains, "so it seems plausible that exposure to organophosphates could be associated with ADHD-like symptoms."
Environmental Protection Agency (EPA) regulations have eliminated most residential uses for the pesticides (including lawn care and termite extermination), so the largest source of exposure for children is believed to be food, especially commercially grown produce. Adults are exposed to the pesticides as well, but young children appear to be especially sensitive to them, the researchers say.
Detectable levels of pesticides are present in a large number of fruits and vegetables sold in the U.S., according to a 2008 report from the U.S. Department of Agriculture (USDA) cited in the study. In a representative sample of produce tested by the agency, 28% of frozen blueberries, 20% of celery, and 25% of strawberries contained traces of one type of organophosphate. Other types of organophosphates were found in 27% of green beans, 17% of peaches, and 8% of broccoli.
Although kids should not stop eating fruits and vegetables, buying organic or local produce whenever possible is a good idea, says Bouchard.
"Organic fruits and vegetables contain much less pesticides, so I would certainly advise getting those for children," she says. "National surveys have also shown that fruits and vegetables from farmers' markets contain less pesticides even if they're not organic. If you can buy local and from farmers' markets, that's a good way to go."
Next page: Study doesn't show cause-and-effect