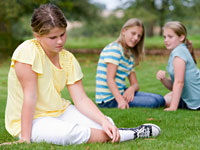 Istockphoto
By Anne Harding
MONDAY, May 3, 2010 (Health.com) — Children in grades three through six who are obese are more likely to be bullied than their normal-weight peers, a new study has found.
No one who has attended grade school—or who has even the slightest familiarity with children—will be surprised by these findings. What is surprising, however, is that obese children are bullied more often even if they possess qualities that can discourage bullies, such as having good social skills or doing well in school.
"When we started this study, I really suspected that we might find that the obesity or overweight might not be the driving force," says the lead author of the study, Julie Lumeng, MD, a professor of pediatrics at the University of Michigan, in Ann Arbor. "What we found is that it didn't matter. No matter how good your social skills, if you were overweight or obese you were more likely to be bullied."
In the study, which appears this week in the journal Pediatrics, Dr. Lumeng and her colleagues followed more than 800 children—all born in 1991—from 10 different cities across the U.S. When the children were in the third, fifth, and sixth grades, the researchers surveyed teachers, mothers, and the children themselves about whether they were bullied, and also surveyed the adults about the children's social skills. They then compared these responses to the children's body mass index (BMI), a simple ratio of height and weight.
Overall, kids who were obese were 65% more likely to be bullied than their peers of normal weight; overweight kids were 13% more likely to be bullied, although that finding was not statistically significant, the study notes. This pattern persisted even when the researchers took into account other factors that are associated with both obesity and being bullied, such as coming from a low-income family or doing poorly in school.
Experts have always wondered whether being overweight and being bullied share a common, underlying cause, says Matthew N. Davis, MD, a primary care physician and the director of the C.S. Mott Children's Hospital National Poll on Children's Health.
"It wasn't really clear until recently how strongly children's weight is related to bullying," says Dr. Davis, who was not involved in Dr. Lumeng's study. "But now, thanks to this study and to ours in other populations, we can say with confidence that obesity is a strong risk factor for bullying among kids."
Sylvia Rimm, PhD, a clinical professor at the Case Western Reserve University School of Medicine, in Cleveland, suggests that the low self-esteem of overweight children may make them targets for their peers.
Rimm, who wasn't involved in the study, surveyed thousands of middle-school children for a 2004 book, Rescuing the Emotional Lives of Overweight Kids. "Kids who considered themselves very overweight not only were bullied, but…indicated more loneliness, saw themselves as troublemakers, and saw themselves as sad, fearful, and wimpy," she says. "They really have huge struggles."
Next page: Bullies may take after adults