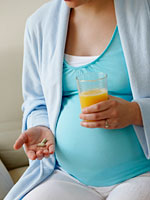 Getty Images
By Denise Mann
SATURDAY, MAY 1, 2010 (Health.com) — Pregnant women could—and probably should—consume 10 times more vitamin D than experts currently recommend, according to a new study.
Current guidelines for daily vitamin D intake during pregnancy range from 200 international units (IU) per day to 400 IU, the amount found in most prenatal vitamins. For decades, doctors have worried that too much vitamin D during pregnancy could cause birth defects, and under current guidelines anything over 2,000 IU per day is still considered potentially unsafe for anyone, not just pregnant women.
That much vitamin D is not only safe during pregnancy, the researchers say, but doubling it may actually reduce the risk of complications.
Pregnant women should not change their vitamin D intake without consulting their physicians, however. The study looked only at women in their second trimester and beyond, and it's not yet clear whether high doses of vitamin D are safe earlier in pregnancy, when organs are formed and the fetus is especially vulnerable to birth defects.
In the study, 500 women who were at least 12 weeks pregnant took either 400, 2,000, or 4,000 IU of vitamin D per day. The women who took 4,000 IU were least likely to go into labor early, give birth prematurely, or develop infections.
"Pregnant women need to take 4,000 IU of vitamin D a day," says Bruce Hollis, PhD, the director of pediatric nutritional sciences at the Medical University of South Carolina, in Charleston, and one of the authors of the study. "We didn't see a single adverse effect. It was absolutely safe, and we saw a lot of improved outcomes. The risk of preterm labor was vastly decreased and so was the risk of other complications of pregnancy."
Hollis and his colleagues presented their research today at the annual meeting of the Pediatric Academic Societies in Vancouver, B.C.
Taking supplements is the only practical way to consume that much vitamin D. "You can't drink that much milk," Hollis says. "You take prenatal vitamins for other things, but the amount [of vitamin D] in a prenatal vitamin is useless."
The findings are a sign that current vitamin D guidelines are far too low, says Elisa Ross, MD, a staff physician at the Cleveland Clinic Institute of Women's Health, in Ohio. "In the olden days, we thought vitamin D could be associated with certain birth defects and may cause more calcium to build up in the women's blood. If this study is confirmed—which I am hoping it will be—it will increase the amount of vitamin D we recommend 10-fold."
Next page: More research needed