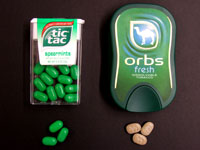 Harvard School of Public Health
By Denise Mann
MONDAY, April 19, 2010 (Health.com) — A new generation of smokeless, flavored tobacco products that look like breath mints or breath-freshening strips may be life-threatening for children who mistake them for candy, according to researchers from the Harvard School of Public Health and the Centers for Disease Control and Prevention (CDC).
"Nicotine is a poison, and now we're seeing smokeless tobacco products that look like Tic Tacs or M&M's, which parents can leave on the counter and children can be attracted to," says Greg N. Connolly, DMD, the director of the Tobacco Control Research Group at the Harvard School of Public Health, in Boston.
Connolly led a research team that found that smokeless tobacco products are the second most common cause of nicotine poisoning in children, after cigarettes. The researchers reviewed data from 61 poison control centers and identified 13,705 cases of tobacco ingestion between 2006 and 2008, the vast majority of which were in infants. Smokeless tobacco was involved in 1,768 of the cases.
The new products—currently being test-marketed in three cities—include Camel Orbs, which resemble breath mints; Camel Sticks, which are about the size of a toothpick and dissolve in the mouth; and Camel Strips, which are similar to breath-freshening strips. Small, teabag-like "snus"—pouches filled with tobacco that are placed between the upper lip and gum—are also a potential hazard, according to the study, which appears in the journal Pediatrics.
These products are not smoking cessation aids; rather, they are marketed as a nicotine alternative in places where smoking isn't allowed.
Although children in the study were most often poisoned from eating cigarettes and smokeless tobacco products in general, the researchers single out the new, dissolvable products—especially Camel Orbs—as a "major concern." Orbs are available in cinnamon and mint flavors and could easily be mistaken for candy, the researchers say.
"The candy form can only mean trouble, particularly for children and infants," says Connolly. "And snus are attractive, flavorful, and easily ingested by an infant or child."
R.J. Reynolds spokesman David Howard says that the packaging of Camel Orbs and the other dissolvable products is "100% child-resistant in accordance with Consumer Product Safety Commission standards" and bears a label that says "Keep Out of Reach of Children." Adults, he adds, should ensure that "children do not have access to any tobacco products—including dissolvable tobacco products."
Next page: Nicotine poisoning can cause vomiting—or worse