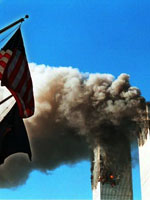 (Life.com)
By Denise Mann
WEDNESDAY, April 7, 2010 (Health.com) — When the twin towers of the World Trade Center collapsed on Sept. 11, 2001, they produced a dense cloud of smoke and vaporized concrete and drywall.
New York City Fire Department rescue workers who were exposed to this polluted air—as well as the kicked-up dust and diesel exhaust that accompanied the rescue effort—had reduced lung function in the weeks and months following the attacks, researchers in New York found at the time.
Now, in a new study in the New England Journal of Medicine, the same researchers report that the lung impairment they observed in the rescue workers appears to be lasting. Firefighters and emergency medical personnel continued to have decreased lung function up to seven years after 9/11, the study found.
"This group has suffered real declines that need to be addressed with regular monitoring and aggressive treatment, because they are now at higher risk for developing future lung problems," says the senior author of the study, David J. Prezant, MD, the chief medical officer of the New York City Fire Department and a professor of pulmonary medicine at the Albert Einstein College of Medicine, in the Bronx. "We confirmed that the drop in lung function that occurred during that first year was substantial, and for the first time we showed that this drop is persistent."
In 2001 and 2002, Dr. Prezant and his colleagues measured the lung function of more than 12,000 fire department rescue workers who worked at Ground Zero, comparing the results to lung-function tests given to the same group before 9/11 as part of their routine department physicals. On average, the lung function of the workers at the World Trade Center site declined by an amount equivalent to 12 years of natural aging, they found.
In the new study, the researchers continued to follow these firefighters and medical personnel for an average of six years, measuring their lung function every 12 to 18 months to see if the initial decline persisted. (Lung function was measured using spirometry, which involves blowing into a device that records the amount of air you exhale.)
The researchers were surprised to see "little or no" improvement in average lung function, according to the study.
In addition to raising the rescue workers' risk of future lung problems, this persistent decline in lung function has potential short-term consequences, according to Dr. Prezant. "It places them at a higher risk for shortness of breath, cough, wheeze, [and] impairments in their ability to exercise and perform physically demanding jobs," he says.
Next page: 9/11 health claims controversial