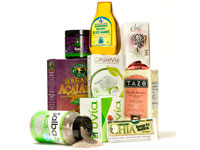 Todd Huffman
Agave, Salba, stevia—oh my! Having trouble telling which new finds in the health-food aisle are actually good for you? Our helpful guide can point you in the right direction.
Agave nectar
What it is: A syrup made from the Mexican agave plant, which is used as a sweetener and to make mescal—a distilled spirit. (Tequila is a kind of mescal.)
Where you'll find it: In the baking aisle, near the other sweeteners.