A few months ago, after being on my 1,700-calorie diet for a while and hitting a weight-loss plateau, my boyfriend said, "You really don't eat that much. Have you ever had your metabolism checked?"
Google "slow metabolism" and you get language like, "There is such a thing as slow metabolism…but it's rare." (Code for: "Not you, couch potato!") And this was what I've always assumed. I never thought to have my metabolism checked. It's too taboo. If you say you have a slow metabolism, you'd better be joking, or expect people around you to roll their eyes.

Most people—even some health professionals who are charged with providing care to overweight and obese people—assume dieters blaming slow metabolism or some other genetic problem just want to have an excuse.
However, I decided to follow through with my boyfriend's suggestion. I learned I could have my metabolism checked using an indirect calorimeter for $90 at the University of Alabama at Birmingham's (UAB) EatRight Weight Management Services. (Around the country, a similar test will cost anywhere from $40 to $100. Some fitness clubs now offer it as part of the package when you join.) Taking the test is simple: You relax for about 10–15 minutes, then you clip your nose and breathe through a tube, still relaxed, for another 10 minutes.
I didn't expect the test to tell me anything other than "normal." But in the weeks leading up to my appointment, my boyfriend's suggestion started to work on my mind. It brought up a question I've had for a long time, a question I've conditioned myself to sweep to the dusty corners of my mind: Why have I been so seriously overweight since age 6? Is there something else going on?
After my 10-minute test was over, the registered dietitian brought a printout and sat across from me to explain the results: My resting metabolic rate is 33% slower than normal for a woman my age, height, and weight.
33% slower!
So here's how that translates in calories: A woman my age, height, and weight with a normal metabolism has a predicted resting metabolic rate of about 1,812 calories. Add in regular daily activities and exercise, and that woman would burn about 2,100 to 2,400 calories a day (depending on what exercise she does and how active she is).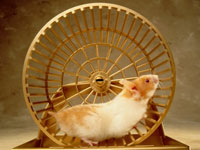 (Getty Images)
My resting metabolic rate is 1,224 calories. Add in activity and assume a half hour of moderately paced exercise, and I burn about 1,717 calories a day. No wonder I wasn't seeing results with my 1,700 calorie diet—that's what my body needs to maintain. And if I followed U.S. dietary guidelines for a weight-maintenance diet (and ate between 2,000 and 2,300 calories a day), I'd gain as much as a pound a week! According to the results from my test, my weight-loss zone is 1,000 to 1,224 calories a day.
My journalism brain clicked on and questions zoomed through my head (that is, after I got over the initial shock of the test results). First question: We always hear a slow metabolism is rare, but how rare? Is there a percentage? I started looking, researching, and contacting weight-loss professionals.