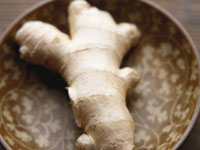 (Getty Images)
By Sarah Klein
MONDAY, Feb. 1, 2010 (Health.com) — If you take heart medication, you may want to avoid some of the most popular over-the-counter herbal supplements on the market, including ginseng, saw palmetto, and echinacea. These herbal remedies—and many others—can cause potentially serious problems in people taking heart medications, a new report warns.
"These products are not by themselves dangerous," says the lead author, Arshad Jahangir, MD, a cardiologist and professor of medicine at the Mayo Clinic in Scottsdale, Ariz. "But when taken with medications for cardiovascular diseases, a relatively safe compound can become dangerous."
Herbal remedies such as ginseng, ginkgo, garlic, black cohosh, St. John's wort, hawthorn, saw palmetto, and echinacea can dilute, intensify, or exacerbate the side effects of prescription heart drugs such as blood thinners and cholesterol-lowering statins, the report says. Some supplements may also increase heart rate and blood pressure, causing potential complications in heart patients.
The report, published this week in the Feb. 9 issue of the Journal of the American College of Cardiology, lists more than 25 herbal products that people with cardiovascular diseases should avoid, including 12 of the 20 best-selling herbal supplements in the United States. (See the full list in Heart Trouble? 30 Herbal Remedies to Avoid.)
For instance, St. John's wort, which is often taken to treat depression and anxiety, affects how the body absorbs dozens of prescription medications and may diminish the efficacy of statins and beta-blockers, a class of drugs used to treat high blood pressure and heart-rhythm disorders.
Herbal supplements such as garlic and ginkgo, meanwhile, can interfere with blood thinners (most notably warfarin) and increase the risk of bleeding associated with those drugs.
"Stay away from the four G's: garlic, ginkgo, ginseng, and ginger," says Elsa-Grace Giardina, MD, a cardiologist at Columbia University, in New York, who has studied herbal remedies and heart drugs but did not participate in the current report. "They all have effects on bleeding."
Even grapefruit juice, which people often drink for weight loss and heart health, can increase the blood concentration of statins, raising the risk of liver damage and muscle pain, the report notes.
Next page: Even some doctors aren't aware of the dangers